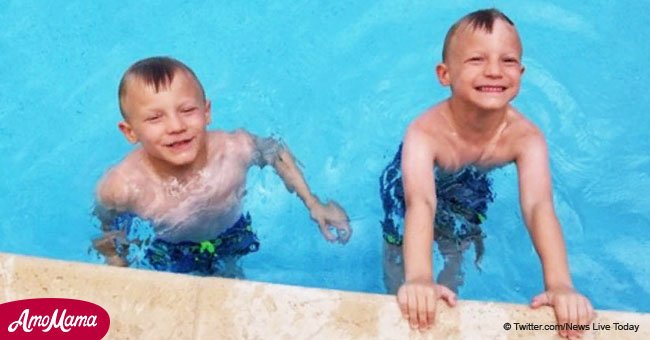 6-year-old twin brothers save drowning toddler from swimming pool

The presence of mind of 6-year-old twin brothers, Bryant and Peyton Switzer, helped to save a toddler from drowning.
The twins' mother Amy Walter came to attend a National convention of her employer Modern Woodmen Fraternal Financial at Orlando.
Amy, and her fiancé, DJ Deiter, work for the same organization. When they learned about the sales convention, they decided to take the twins, the youngest of five brothers, for a Disney World vacation.
Amy mentioned to a CBS News that since they arrived late in the evening, she let the boy take a swim before they checked into the sales convention hotel. The twins loved spending time in the water.
As the evening drew to a close, the twins showed no signs of wanting to get out. While the twins were splashing about, a mother and her daughter Charlie were playing in the shallow end of the pool.
Read more about Bryant and Peyton Switzer on our Twitter account @amomama_usa.
Since the boys wanted to stay longer, Amy left them with her fiance and went to the hotel. Charlie's mother began packing her family's things when Charlie ran over to the deep end of the pool and jumped.
The toddler began to struggle to keep her head above water. The twins could tell that the little girl was in trouble, as her head started to disappear beneath the surface.
Without a moment's hesitation jumped into the pool, Peyton swam towards Charlie and wrapped his arm around her. He then swam towards the ladder where Bryant helped her up the ladder.
Charlie's mother came near the ladder to pull Charlie up.
According to the CDC, drowning is the second-most reason for accidental deaths of children under 15. Last month, U.S. Olympic skier Bode Miller's lost her 19-month-old daughter who drowned in the pool.
The twins have been getting lots of calls, messages from family, friends, and thankful people across the country; they were hailed as heroes.
Last Monday, the boys each received an award from the Ohio State House of Representatives, presented by District 3 State Representative Theresa Gavarone after their swimming lessons at the Bowling Green City Pool.
Please fill in your e-mail so we can share with you our top stories!