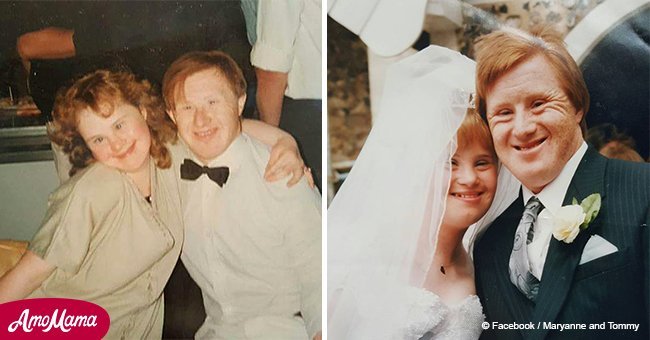 After 23 years of marriage, couple with Down syndrome still in love
Maryanne and Tommy Piling, a couple believed to be the first Down Syndrome couple to marry in 1995, prove that their love has only grown stronger with time.
According to Daily Mail, the couple has been in their beautiful relationship for 23 years and have lived a successful conjugal life. Prior to their marriage, the couple dated for around 18 months before Tommy finally proposed Maryanne.
Not only are people inspired by the beautiful romantic story of the couple, they have closely followed the couple's life through a Facebook page that celebrates the couple's romance.
The source informed that Maryanne's sister, Lindi Newman, helped set up the page, which has now gathered over thousands of followers.
Follow us on Twitter to learn more.
Newman also revealed how Maryanne had come home with the biggest of smiles on her face when she met Tommy for the very first time.
She added that the couple continued to date for 18 months until Tommy finally approached Maryanne's mother to ask if he could propose.
Their mother agreed but insisted that Tommy should do it 'properly,' so she even took him to a jewelry shop to buy a proper ring. Earlier, Tommy had a toy ring from a vending machine.
'She received a lot of flak at the time for letting them get married but she insisted it was their decision,' Newman told the Daily Mail.
Maryanne also told the online source that her wedding was the "best day" of her life. Further speaking about their married life, she told, "Tommy and I never argue. I love my husband very much. He is my best friend."
The couple live independently and are happy to be together through thick and thin. They have their family next door to help out whenever needed.
Please fill in your e-mail so we can share with you our top stories!