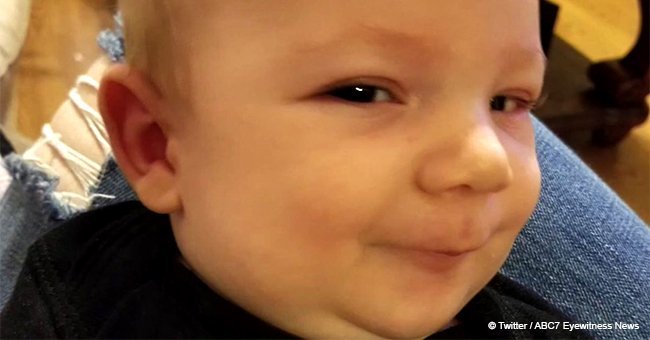 Family has message for parents after 4-month-old baby unexpectedly dies from meningitis
A family is mourning the loss of their 4-month-old baby boy named Killy Schultz. The little child started becoming ill after daycare on June 29.
By the following day, he'd died from having contracted meningitis according to WTVR. His parents are now urging people to stay up to date with their children's vaccinations.
Killy Schultz, 4-months-old, from Chesterfield, Virginia, died on June 30 from meningitis. The day before he developed a rash and a fever on his way home from daycare.
His mother Alex Dempsey shared that, "He had just eaten his bottle for the afternoon. He was a little warm but we figured it was a warm day so get him home and let him cool off"
For more on this story go to our Twitter account @amomama_usa. The baby was given some Tylenol and when that didn't work they decided to get him checked out at the emergency room at St. Mary's Hospital.
A few tests later, Dempsey and her fiancé Gabriel Schultz were informed that their baby had most likely contracted meningitis. This was just two days after Killy had received his 4-month-old vaccinations.
"He was so swollen and purple, and it really didn't look like him anymore, but I still hold him to tell him how beautiful he was, and he was far more than I ever deserved to have, and I told him how hard he had fought, and that we were so proud of him."
Alex Dempsey, WTVR, July 11, 2018
Meningitis is an inflammation of the protective membranes that cover the brain and spinal cord. Dempsey said she knew there was a strong possibility that we were going to lose their son when she heard that he had meningitis.
Suddenly his heart rate dropped, and they started to do CPR. After 10 minutes of CPR, his parents told them to stop because they knew that even adults couldn't come back after that long without being brain dead.
Dempsey revealed that health officials believed her son had contracted the disease from an unvaccinated person. She pleaded with people to be aware that vaccinations can prevent things like meningitis.
The family said the Virginia Department of Health (VDH) was investigating and provided them with information on steps they can take for those exposed. Killy's mother explained that anyone who had any chance of coming in contact with the illness had taken a prophylaxis measure of antibiotics.
The boy's daycare and all the children also received the preventative treatment. The VDH also provided the family with a fact sheet on the disease.
The Centers for Disease Control and Prevention recommended that all preteens and teenagers get meningococcal vaccines. A GoFundMe page has been set up to assist the family with funeral expenses.
Please fill in your e-mail so we can share with you our top stories!