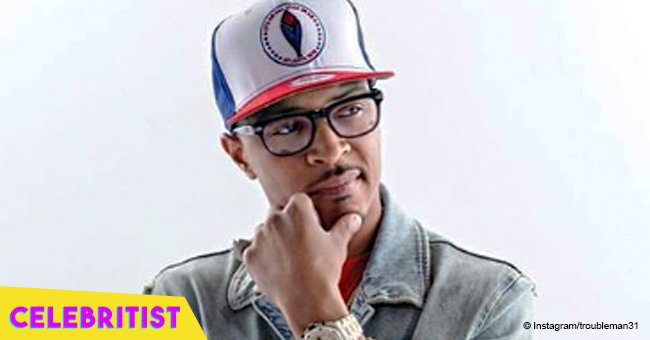 T.I. melts hearts with picture of daughter Heiress pretending to work at his office
The American rapper and actor is also a proud papa, and often shares updates to his social media accounts of his sweet little children for his fans to see.
Clifford Joseph Harris Jr., known by his stages names of T.I. and Tip, has three children with his wife Tiny, and another three from previous relationships. Despite this, the couple have always presented a united front raising their brood.
The youngest of their children, Heiress Diana Harris, is just 2 years old. But at such a tender age, she is still stealing plenty of hearts with her inexplicable cuteness.
T.I. recently took to Instagram to share an adorable photo of his baby girl, sitting behind his desk looking like she was dealing with some serious paperwork.
In the sweet image, Heiress is sitting in a black leather high-back chair, with her hair pulled back high up on her head. She seemed to have a tablet in her hands, and was concentrating very hard on something on the screen.
"Small Boss Handling BIG Business!!! #DeyGonRunWitItWhenImDoneWitIt#BossBaby," T.I. captioned the cute shot.
Within a day, the post had almost 140,000 likes.
T.I. and Tiny have been having marital problems lately, with video footage emerging of the rapper slapping an unknown woman on the buttocks. Tiny is currently on tour, leaving T.I. on daddy duty with the children.
He's still in the doghouse with his wife, with her friends encouraging her to go through with a divorce, while he is adamant he is not ready to give up on thier relationship just yet.
An unnamed friend of Tiny's told Hollywood Life that the couple may have their differences and difficulties, but are doing their best when it comes to the children.
"T.I.'s doing his part, but he's also got a ton on his plate right now so he has to dip in and out," the friend said. "But whenever he's got free time he's been seeing them in Atlanta. They come first and they love their daddy. T.I. never duck out on daddy duties and Tiny would never want him to. No matter what happens between them she would never stop him from seeing their kids."
Hopefully the couple will be able to sort through their problems for the sake of the little ones.
Please fill in your e-mail so we can share with you our top stories!