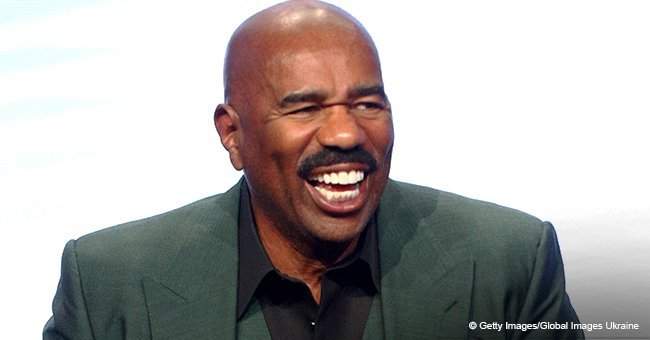 Steve Harvey's grandson steals the show while 'showing off for girls' in adorable video
The talk and game show host is a proud father and grandfather, and recenty took to social media to share a funny video of his young grandson trying to impress the ladies.
Steve Harvey is known for the many shows he hosts on television, but at home he's just a beloved member of his family, a loving husband, dad, and granddad. Harvey has four children, and is currently expecting his fifth grandchild.
One of Steve's little grandchildren, BJ, recently featured on his Instagram account in a cute video.
The toddler, clad in a white t-shirt, a pair of black sweats, and black sneakers, could be seen trying to pull some moves that would impress a little girl standing next to him
He walked into the frame of the image with the little girl in pink walking next to him, and then decided that the song playing was his jam. Next thing he stepped away from the little girl, and started a vigorous dance routine to impress her.
He jumped and bounced around pumping his fist in the air, even taking to his knees for some of his hip hop moves.
"My grandson BJ doesn't know it yet but this showing off for girls will never stop but gohead player!!!! Fellas don't this look like what your insides is doing when you meet a girl?" Steve captioned the footage.
Steve and his wife, Marjorie Harvey, recently celebrated their 11th wedding anniversary, and decided to dress up and hit the beach in celebration.
Steve and Marjorie enjoyed a romantic balcony dinner for their anniversary, overlooking the water. The two made sure to make the most out of their romantic beach trip, having a private meal prepared by a personal chef and a butler.
The couple even organized a professional photoshoot for the occasion.
They then headed home to celebrate the 4th of July together with the rest of their family.
Steve took to Instagram with another photo, showing him playing outside with a ball on the holiday. In the image, he was dressed down in a loose-fitting pair of green patterned pants and a loosely buttoned white shirt.
Please fill in your e-mail so we can share with you our top stories!