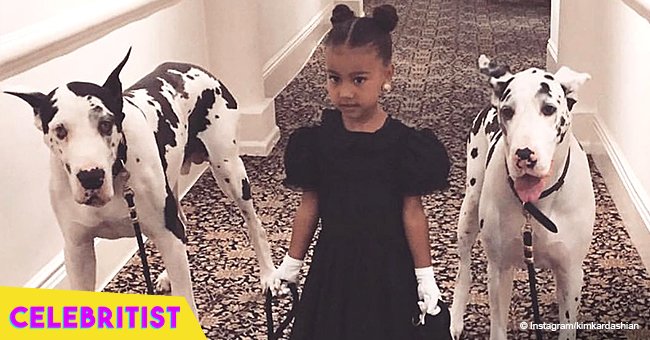 Kim K's daughter North West grabs attention in pink outfit at auntie Khloe's birthday party
North West can steal the spotlight wherever she goes even if she doesn't mean to do it. A few weeks ago, the five-years-old melted fans' hearts after appearing in several Snapchat videos from her aunt Khloé Kardashian's birthday party.
The adorable girl looked stunning wearing a pink outfit and her naturally curly hair flowing down her back as she made several videos with the birthday girls wearing filters that gave her, whiskers, cat ears and big anime eyes.
Following the Kardashians' traditions of expensive gifts between the siblings, Kim bought Khloé a Balenciaga money print purse valued at $3k that North passed down to her. After opening the present, which was decorated in Kimoji wrapping paper, Khloé explained to her niece that the bag represented her nickname, Khlomoney.
As the eldest daughter of Kim Kardashian and Kanye West, little North is considered a royal in the entertainment industry. Her parents are worth more than $500 million together, but Kim recently revealed she's raising her kids to keep a humble attitude despite the luxuries they get.
"I worry about giving my kids too much. We don't do gifts. They have to really earn it. But we talk about it all the time, about not getting too much and just trying to be as grounded and well- rounded as possible," she wrote in an essay for WealthSimple.
However, she still allows her kids to do as they please on special occasions, which is what happened on North's birthday last month. Kim faced a lot of backlash after photos of the girl with straightened hair hit the internet, as people accused the reality star of damaging North's beautifully curly hair so that she could look like her.
Kim, always unbothered, remained quiet about the accusations. But a few days ago, the businesswoman addressed the issue in an interview with Pop Sugar, admitting that "I'm really well aware of things, especially if they involve my children." The 37-years-old star proceeded to explain the reason why North had straight hair during her birthday, saying:
"I saw some ridiculous things that people said, like that I put extensions in her hair or permanently straightened it. That's not true at all. It was like a 5-minute process, where I put her hair in a ponytail and used a flatiron. I would never want to damage her hair, so it's not like I'm going to do it weekly. But it was for her birthday, and she asked for straight hair, so if that's what she wants to do one to two times a year, then I'm fine with that."
For the star and the rest of her siblings, beauty is all about having fun, and they're passing down that knowledge to their kids. North, Kim says, is very observant. She knows not everyone has the same hair texture, and she sees it on the daily by comparing her cousins' hairs on Kim's and Kanye's sides of the family.
As for makeup, Kim revealed that North loves it but as every little girl does. Since her mom and her aunt Kylie run a makeup empire, is only natural for North to be curious about all the products that must run down her house.
"My daughter isn't wearing makeup as part of her routine or to feel good about herself — she's at home putting makeup on her dolls and doing it to dress up like a princess," Kim stated.
And continued:
"I see nothing wrong with that. There are makeup camps where they teach kids how to create makeup and little kits you can buy because it's just fun. My daughter, for example, got a how to make bath bombs [set] for her birthday — it's like the how to make slime. It's just a fun activity we can do together."
North is indeed growing up to become a beautiful lady, and we're sure she will keep on stealing the spotlight from her family in the future.
Please fill in your e-mail so we can share with you our top stories!