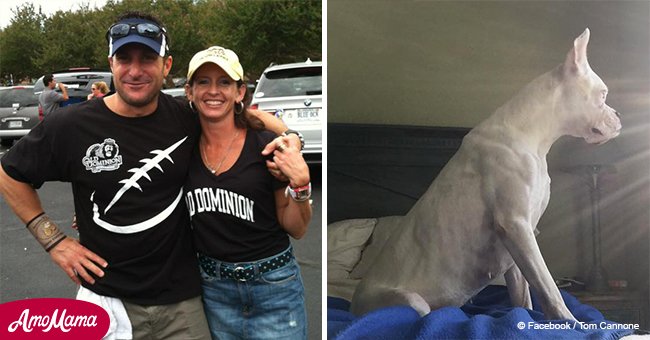 Virginia Pilot: Dog owners surprised to learn their adopted deaf dog knows sign language

Tom and Jane Cannone, of Virginia, were amazed that their sweet senior-aged Boxer knew sign language.
In 2016, Jane and Tom adopted Boombox, a deaf female Boxer, after searching through Carolina Boxer Rescue, as reported by The Virginian Pilot.
They were surprised to learn that no one had adopted her up yet because she seemed adorable. But then they discovered it was most likely because she was deaf.
Follow us on our Twitter account @amomama_usa to learn more.
Boombox rarely barked and had never been scared of thunder, unlike many dogs.
The Norfolk couple learned that their adopted dog had been trained to respond to sign language after a routine trip to Veterinarian Layne Brett at Dog and Cat Hospital.
Dr. Brett decided to do an experiment after discovering that Boombox was deaf. She gave a downward hand motion that means "sit" in dog sign language, and the 8-year-old sat immediately.
The vet explained that there's a formal system of sign language developed by dog trainers to use on police dogs, show dogs and with deaf dogs.
Jane told The Virginian Pilot that Boombox knew some of those commands and will even respond to them.
"When we hold a finger up and motion to her, she knows it's time for her walk," she said.
The couple was happy to know they could still communicate with her.
Jane said she's uncertain how much formal sign language Boombox knows, but she plans to research other dog sign language signals and see if she responds.
The couple believed that Boombox's previous owners likely were very loving because she's incredibly well behaved.
Boombox, who immediately became attached to her new owners, hates dark places or being left alone.
For that reason, while Jane and Tom work, Boombox attends daycare at Muddy Paws.
Though Boombox gets along well with other dogs, she favors the company of people.
Tom said: "Other dogs in the neighborhood are barking, and people ask me how I keep Boombox quiet. I just tell them that she obeys."
"There's something special about her," Jane added. "She's so sweet, and I wouldn't change this experience for the world."
Please fill in your e-mail so we can share with you our top stories!