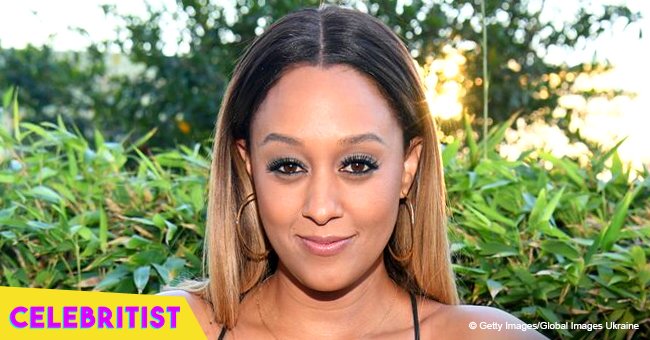 Tia Mowry shows off weight loss and toned body just 2 months after giving birth

Tia Mowry gets candid about her struggles working out with a 2-month-old baby but makes a firm resolution in her latest post. Fans poured out their support for the star's plight.
Two and a half months since giving birth to her second child, Tia Mowry is determined to stay the course getting back in shape despite the demands of her newborn. In a brand new post showcasing her post-baby body, the 39-year-old dared to reveal how far she still has to go but resolves to do the work to get to her ideal weight.
Tia was wearing a figure-hugging pair of leggings and a white T-shirt which flaunted her noticeable weight loss despite her still-extended belly in the photo she shared. She reflected on how it's more difficult now to get back to her workout routine in her caption.
"I have to say, getting back to a solid workout routine has been so hard. Harder this time around."
She says the demands of her newborn have been taking up much of her time that she's tired by the end of the day.
"With a newborn, your days are engulfed with taking care of your beautiful baby. Changing diapers, breastfeeding, etc. By the end of the day, you are extremely exhausted. All you really want to do is sleep."
But Tia is firm in her resolve to do the work because she understands the need to take care of herself.
"However, I've learned, I have to take care of me too. It is okay to work on you. If you don't, nobody wins. Here's to tapping into me! Getting there! 2 and a half months #postpartum#motherhood #workout"
The mother of two and wife of Cory Hardrict has always been very open about her struggles with her post-delivery body, but she's also learned to embrace her situation and not be pressured by a time frame. She was honest to admit her belly doesn't disappear right after birth like other women in a post marking her 7th week postpartum.
"Some #pregnant women after giving birth no longer have a belly after [seven] weeks. While others it may take a little longer. Me, I'm the latter. I remember after giving birth to Cree, my belly didn't all of a sudden go flat. I did have a C-Section, (as well as with my second pregnancy) and I thought something was wrong with me. I had seen in magazines the many women on the beach a few weeks #postpartum in a two piece. To be honest, it had to take time for me to embrace my new body."
But Tia isn't letting that bring her down.
"If it takes a while for me to get back to my normal self, than so be it. This.Is.Me. And I love me."
Tia's fans have been very supportive of her latest admission and appreciated her transparency and her speaking the truth. Their words of encouragement are enough reason for her to be inspired.
"I love how real you are!"
"Thank you for keeping it real and not making it seem like everyone must snap back into they're pre-baby body in a week."
"Absolutely Truth...You Go Tia..."
"Thank you for this!!! You are so awesome for being so open and honest about your postpartum journey you are a true inspiration to the REAL women out there in the "bounce back" journey. You look AH-MAZIN-ING keep up the hard work & the posts!! #realwomen #reallife #yourock"
Comments like these prove Tia is a blessing to her fans as they are to her. Just the motivation she needs to stay on track.
Please fill in your e-mail so we can share with you our top stories!