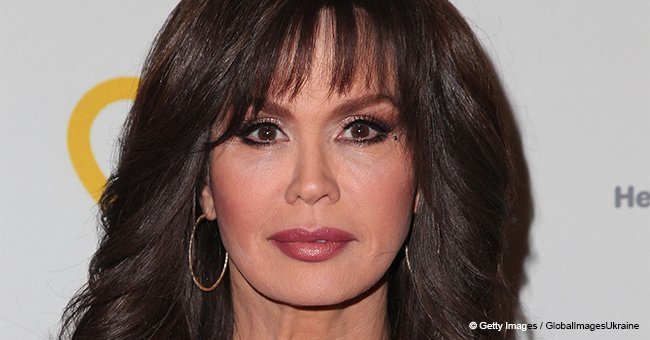 Marie Osmond begs people to pray for brother on life support

With her brother struggling to survive after his quadruple bypass surgery, Marie Osmond is appealing for prayers from her friends and fans.
In Facebook post on July 8, 2018, she expressed her sadness over her brother Tom's medical condition.
"My sweet brother Tom, who is the second eldest in our family, is currently facing the fight of his life. Despite his physical challenges, he always strived to remain upbeat," she wrote.
Follow us on our Twitter account @amomama_usa to learn more.
The 58-year-old singer and actress started her post by stating that Tom, 70, was among the first deaf missionaries in their church who served in Canada
Marie, who rose to fame with her cover of the country pop balled "Paper Roses," said she continues to remain positive despite what her brother was going through.
"I am saddened though about my dear brother's condition because his doctor is not sure how he will do in his recovery. But I am convinced that God knows and has a plan for Tom and all of us, His children," she wrote.
The Osmonds, who hail from Ogden, Utah, were known in the entertainment industry for their talent in singing.
The family music group rose to prominence in the early 1970s. The Osmond brothers began as a barbershop quartet consisting of brothers Alan, Wayne, Merill and Jay Osmond. But they were later joined by younger siblings Donny and Jimmy.
Tom, the second eldest in the family, is most a non-performing member of the family.
"Tom is so full of life and love! I've always seen his enthusiasm through his Christ-like heart and he definitely shines love through his eyes," described Marie.
She continued: "He has such great love for all people, including strangers. His heart is so tender that at times, I swear, it even broke when he has seen others struggling."
Their brother, Donny, also expressed appealed for prayers. He wrote on Instagram: "We don't know what the future holds for Tom, but it's in the Lord's hands now. The whole Osmond family would appreciate your thoughts and prayers on behalf of my sweet brother."
Please fill in your e-mail so we can share with you our top stories!