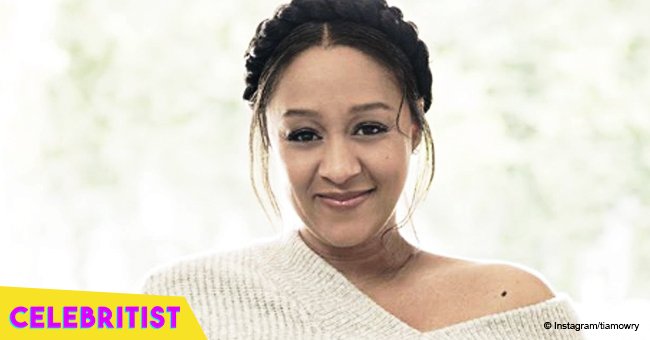 Tia Mowry melts heart with picture of her mom kissing her baby granddaughter
It's been two months since Tia Mowry had her second child, a beautiful baby girl named Cairo, but the Mowry family is still on cloud nine, as proved by a recent post shared to Tia's Instagram account.
Tia Mowry became a mom for the second time on May 5, when her adorable baby girl, Cairo Tiahna, was born through a C-section. The happy mom announced the news to the world by sharing a beautiful picture on Instagram holding the baby in her arms while resting on the hospital's bed and smiling softly.
"Feeling grateful and blessed as we welcome our little baby girl into the world!" she wrote in her caption, adding the girl's weight and measures and ending with "We are in heaven."
Cory Hardrict, Tia's husband, her twin sister Tamera, and the rest of the family, have expressed their joy over the arrival of the little girl by sharing adorable pics with her, but one family portrait missing on social media was that of little Cairo with her grandparents, and Tia just fixed that.
The 40-years-old actress melted hearts as she shared a lovely photo of her mother, Darlene Mowry, holding baby Cairo in her arms and kissing her. The baby looked adorable wearing a Jeannie & Jack dark blue dress with some lace details, a white headband and an orange pacifier.
"Grandmas #igetitfrommygrandma #love #babygirl #cairo," Tia wrote in her caption.
Fans couldn't contain their endearment about the picture, taking to Tia's comment section to praise not only the beautiful view but also Mrs. Mowry's hair and baby Cairo's adorable clothes.
Instagram user @mzann572 wrote:
"@tiamowry ...I love you mother hair. Your mom and daughter are simply beautiful,"
@ohkayerika said:
"Aww @tiamowry your mom is grandma goals! Your baby is so beautiful and chunky! God Bless her!"
and @fashionandlife1982 added:
"Magnificent picture. Beautiful grandmother and daughter."
After keeping us in the dark about her daughter's name for almost two months, Tia finally introduced the girl to the world in one the episodes of her "Tia Mowry Quick Fix" show on Facebook.
She also explained that Cairo means "victorious" and that the name was thought to comply with Cory's request of their daughter's name including the letters "A, I and R," Tia revealed her husband had a spiritual moment while on a flight and saw those letters on the sky.
Tiahna, on the other hand, means "follower of Christ," but it also has Tia on it, which was a huge plus for the "Sister, Sister" actress.
Tia also revealed that since the baby was born, her parents have been visiting her more than in the last few months, as she jokingly expressed she was jealous of Cairo for all the attention.
Baby Cairo has taken front and center on her mom's Instagram, and we can't get tired of the adorable tot's outfits and cute faces.
Please fill in your e-mail so we can share with you our top stories!