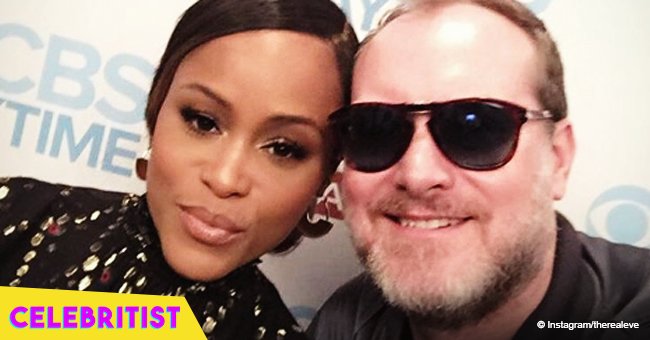 Eve rocks leather leggings and high heels in recent picture with her husband
The American rapper and actress and her husband seem to have only fallen more in love since they tied the knot four years ago, and she's even shared their marriage has changed her for the better.
Eve Jihan Jeffers-Cooper, known only by her stage name of Eve, has been married to businessman Maximillion Cooper since 2014 after the couple met four years earlier in 2010 at the Gumball 3000 rally.
Cooper recently shared a photo of the couple at the 2018 installment of the Gumball 3000 rally, sharing that this year the event would be stopping over in Covent Garden over the first weekend in August.
"Even though footballs not... GUMBALL IS COMING HOME! This year's 20th Anniversary rally is starting from London for the first time since 2011! Come down to Covent Garden on Saturday 4th August for the car display.... and start flag drops at Midday on Sunday 5th!" Cooper wrote.
In the image, Eve was wearing a pair of leather and mesh black leggings, a white zip-up hoodie, a black and grey cap, aviator sunglasses, and a pair of six-inch, black and white checkered peep-toe heels.
She had her arm around his neck, while he had his around her waist. Cooper wore a pair of dark jeans, a Gumball 3000 t-shirt, and a black jacket.
Within three days, the post have over 11,000 likes.
Considering the couple met at the Gumball 3000 rally, they decided to tie the knot in Ibiza on the final leg of the 2014 installment of the rally.
Four years down the line, and they appear to be just as happy as the day they said their "I do's."
Speaking to Cocoa Fab, Eve shared what she has had to change since they tied the knot in 2014.
"Being married has changed me in a lot of different ways. It's funny because I'm a really fiercely independent person and I always have been. Being married, you have to relinquish some of that," she said. "Not in a bad way but in the way that you need to sit back and trust your partner to be able [to] help you with things. Sometimes my husband has to say to me, 'Chill. You're my wife now. I can take the ball from here. Don't even stress.'"
While the couple don't yet have any children of their own, Cooper has four children from a previous relationship. Eve admitted that this made her hesitant to pursue a relationship with him in the beginning.
But now, 8 years later, the rapper loves being a stepmother to his children, and hopes that they will add to the brood soon.
""We can't wait to have kids of our own," she told People in 2016. "Whoever is in charge, make it happen. I can't wait."
Please fill in your e-mail so we can share with you our top stories!