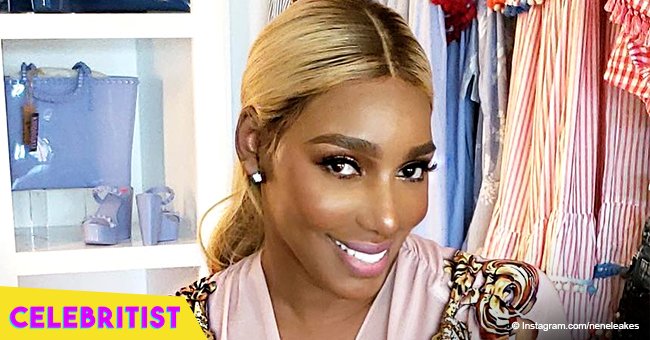 NeNe Leakes steals hearts with picture of her adorable granddaughter

It seems just like yesterday that NeNe Leakes posed for a magazine cover with her newborn granddaughter Bri'Asia. What many might not notice is that her adorable granddaughter is actually already five years old, and is already learning a thing or two from her grandmother about being glamorous.
The former "Real Housewives of Atlanta" star sometimes babysits her lovely grandchild, and during their most recent quality bonding times together, NeNe gushed about her mini-me on social media.
Sharing with her Instagram followers that Bri'Asia actually calls her "glam'ma", and that the little girl is her "glam'baby", NeNe definitely proves that she is one cool grandmother. In her post, she also reveals that Bri is actually in the 1st grade, and has been extremely busy with school.
In a previous snap, the "glam'ma" also showcased the youngin's fashion style, as she rummaged through the older Leakes' closet. In her haul, she was able to wear a colorful beach hat and several pieces of candy jewelry while carrying her baby doll. We'll leave it up to you to guess which piece of clothing actually belonged to NeNe.
"When I said I needed help with my closet, look who showed up to help unorganized it even more! Miss Bri Bri herself. With her favorite candy necklaces and Bracelets on. you should see her feet #myboo #glamma #terrible3's #playingdressup"
Now that Bri'Asia is a bit older, she probably needs less convincing to go to school. Two years ago, the hardworking grandmother shared a video of her convincing a then-three-year-old Bri to go to bed because she had school the next day.
While most obedient children would follow orders, this little toddler decided to propose another solution: quit school.
"She done quit school now chileee. I can't wit this child here"
Every moment spent between "glam'ma" NeNe and "glam'baby" Bri'Asia is time well spent, and time well-cherished by the doting grandmother. It's only a matter of time before we see yet another update of the adorable duo doing the most random but adorable things together.
Please fill in your e-mail so we can share with you our top stories!