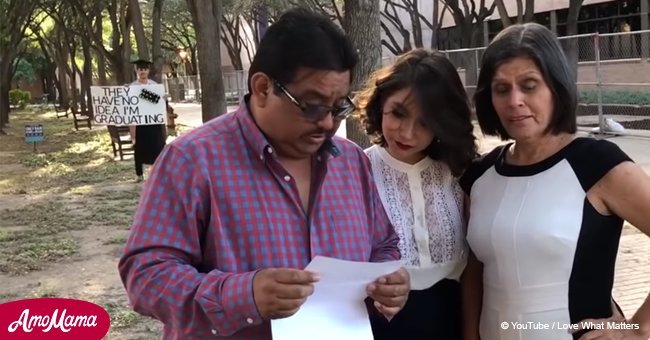 Parents brought to tears after son's surprise graduation announcement
Hanss Mujica vowed never to disappoint his parents after his elder brother died in a car accident. The greatest gift he could give them was to graduate from the university.
Love What Matters shared the clip of Mujica surprising his family with an invitation for his graduation ceremony. The video went viral after it was uploaded to YouTube on May 16, 2018.
Graduation is a momentous moment for both – children and their parents. This moment is not an easy one to achieve and takes a lot of efforts, no matter it is the high school level, college, or when becoming a doctor.
Read more on our Twitter account @amomama_usa.
Graduating from college is very different from high school graduation. At the high school, there is a structured process. There are homework, tests, and projects which need to be completed on time. If one starts lagging, then teachers inform the parents and a student has enough scope to work hard.
In contrast, at the college level, it is more difficult. Nobody calls the parents when children do not do well. The student alone has to identify and work towards being successful.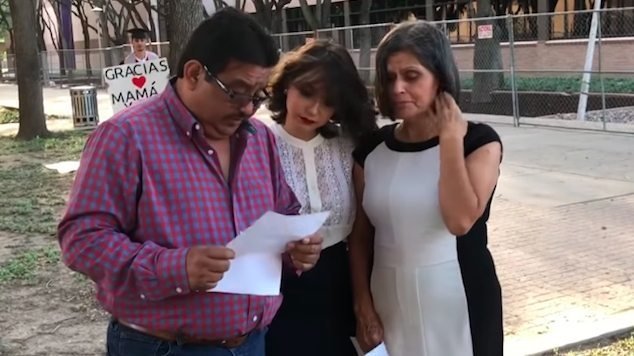 Source: YouTube
One young man – Hanss Mujica gave a massive surprise to his parents. Mujica was known to be a below average student who barely managed to pass high school with the aim to take part in sports.
While trying to get into college, Mujica initially got into the soup and was suspended with a mere 1.47 GPA.
Mujica however, was determined to graduate. He spoke of the sadness his parents experienced when his elder brother died in a car accident. It was at that time Mujica decided never to disappoint his parents again.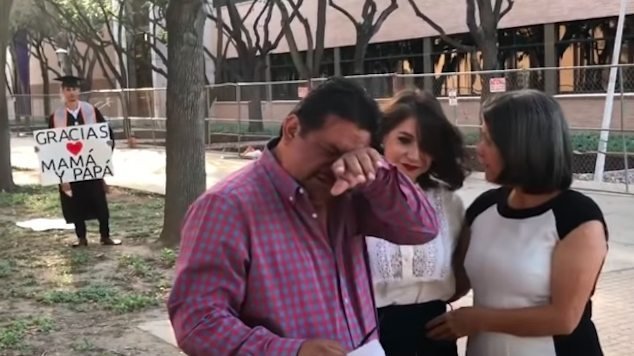 Source: YouTube
After being suspended, Mujica decided that he would pay for school. It, however, proved to be an expensive affair and he was forced to drop out from school in 2015.
In 2016, Mujica quit his stable bank job and worked with a scaffolding firm to earn money for school. This despite his immense fear of heights. He successfully paid back the loans he had taken. He was left with money only for once class that semester.
He pursued his goal and consistently attended classes that spring, followed by summer 1, summer 2, fall 2017 and up to spring 2018. He never told his parents when exactly he would graduate.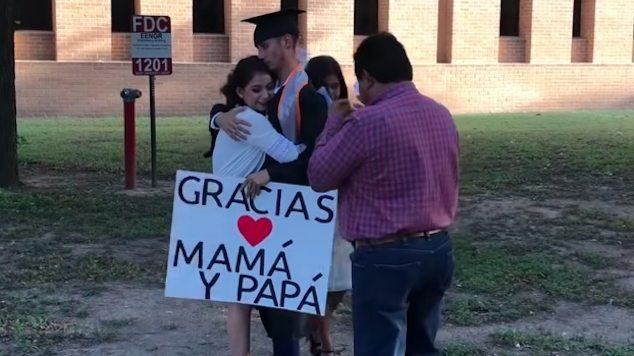 Source: YouTube
Mujica painstakingly planned this surprise for his parents. According to his parents, they were posing for a family photo shoot as part of a school project for their daughter.
At the shoot, the daughter handed over an envelope to her parents. At the same time, Mujica surprised them with a huge poster on which he had written 'They have no idea I'm graduating' on one side and 'gracias mama y papa' on the other.
Mujica said the effort of spending sleepless nights and six years in and out of the university was worth it thanks to the reaction on his parents' face. The envelope contained two invites for his graduation ceremony.
The youngster told Love What Matters that the letter seen in the video expressed his appreciation towards his parents.
He added that adversity would manifest itself in everybody's lives, but it is important how one perseveres through it. This, he believes, defines an individual's character.
Please fill in your e-mail so we can share with you our top stories!