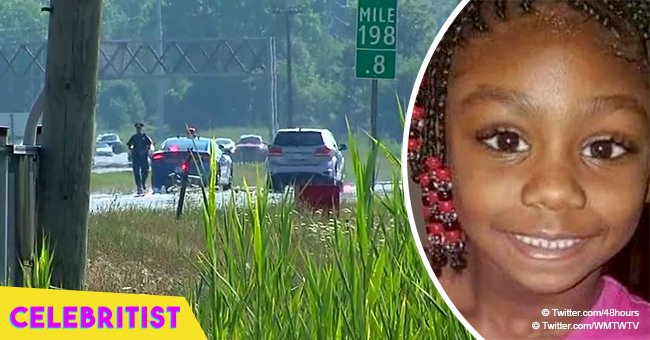 7-year-old girl killed while trying to get help for father after surviving drunk-driving crash
The little girl had been searching for help after the drunk driving accident, when she was hit by a passing car in the middle of the highway.
After her drunk father lost control of his vehicle and veered into an abandoned car on the side of the road, 7-year-old DeSandra Thomas was level-headed enough to gather her belongings and go off in search of help.
As reported by Click On Detroit, the accident occurred near the I-94 and Merriman Road in Romulus, Michigan, at 3am on Sunday, July 15. Her father's vehicle had spun off the road and into the fenced area of a nearby trucking facility.
Dazed but otherwise unharmed, the little girl wanted to get help for her father. Thomas climbed out of the vehicle, gathered her belongings, climbed over the fence, and started walking.
As she went, she sent a text to 911 saying that she and her father had been in an accident, and that he needed help as he was either hurt or dead.
Unfortunately, just moments later, a woman called 911 saying that she thought she might have hit a pedestrian near I-94 and Inkster Road.
Police arrived on the scene, but could find no injured pedestrian nor see any damage on the woman's car, and she was free to go.
"They went out there with their flashlights, did everything they could, searched around the area but couldn't find anything," Lt. Michael Shaw of the Michigan State Police said.
Another group of police officers had meanwhile arrived at the scene of Thomas' father's accident, where they found the man so intoxicated that they had to help him out of his vehicle.
He was uncooperative, and gave police no indication that anyone else had been in the car at the time of the accident.
A short while later, the little girl's body was discovered in the median, approximately a mile from where her father's accident had occured.
"There is evidence where you could see that she walked away, climbed over the fence and walked her way across I-94," said Shaw. "We have a father that is in custody. His daughter is gone. The mom's aware her daughter is gone. This woman will be affected for the rest of her life."
The devastated family has started a GoFundMe page to support Thomas' mother, Sandria Burts. Another family member, Anthony Burts, wrote this about the little girl on the page:
"She didn't care about herself. She was racing against time to save her father as anyone with a heart of gold would have."
Please fill in your e-mail so we can share with you our top stories!