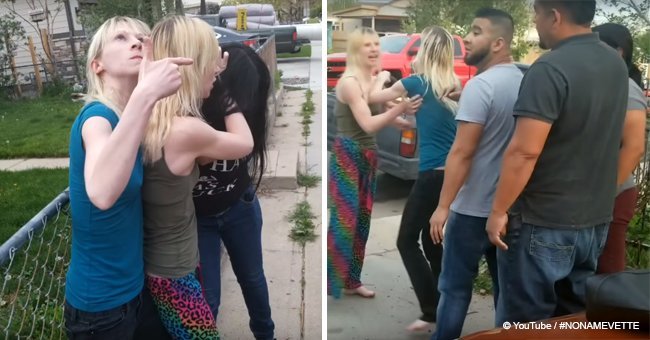 Two sisters who attacked a Hispanic family with racial slurs have been arrested

Two white women are facing charges after harassing and attacking a Hispanic family.
A YouTube video posted on July 10, 2018, shows the two young women, believed to be 26-year-old twins, hurling racist remarks during the encounter in a Colorado neighborhood.
The two women, who appear to be under the influence, can also be seen pulling a Hispanic woman's head.
Follow us on our Twitter account @amomama_usa to learn more.
"You're drunk, I'm not, you're going to jail," the assaulted Latino woman says
"You are!" replies one of the women.
"You came to my property!" says the neighbor.
"Look at yourself!" one of the white women shoots back. "Compared to me, who are you? Who are you to us?"
Police officers can later be seen arriving and telling the two white women to "go wait at your house." The two women, however, argued with the police and told them to arrest the Latino neighbors.
"You old, fat Mexican [explitive]," yells one of the white women.
At this point, the police officer is pissed. "It's looking real good for you," he sarcastically replies to the racist white woman.
The YouTube video has amassed more than 230,000 views since it was posted on July 10, 2018.
Juan Carlos Ruiz, a son of the assaulted Latino woman wrote that some of the racist remarks hurled against her were not even captured on video.
"Long story short my mom was at the neighbor's house asking how much it would be to have some carpet installed in her house, when these two girls started screaming from across the street racist things, saying how do Mexicans have money to own the houses we do and have the cars we do, saying stuff like leave our country!" he wrote in the YouTube video's description.
He lamented how racism has taken a toll on the lives of non-white Americans.
He continued, "We aren't here to harm anyone just! Just live a life like everyone else! This is the type of stuff we have to deal with for wanting a better life!"
Please fill in your e-mail so we can share with you our top stories!