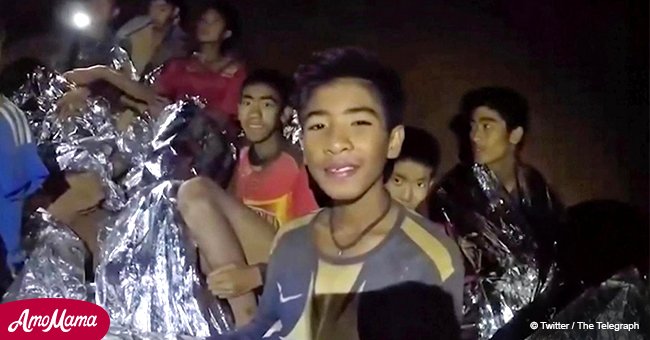 Touching video shows moment the families of Thai boys trapped in cave meet divers
The video captured the moments when the families of the youth football team survivors met the heroes who saved their children to thank them.
Metro News shared the touching video on YouTube on July 12, 2018.
The parents of the missing cave boys got to meet the British divers who rescued their sons for the first time.
The grateful parents of the boys reached out their hands and bowed their heads in appreciation of the efforts the divers took to save their children after they were trapped in the Tham Luang cave along with their coach for more than two weeks.
Read more on our Twitter account @amomama_usa.
The team consisted of Rick Stanton, John Volathen and other members of the British potholer team, who led the 'mission impossible' at Tham Luang cave.
The boys and their coach were trapped on a muddy ledge two miles inside the cave.
The relieved parents greeted the assembled divers with the traditional Wai greeting after which they embraced the British heroes.
The humble divers, however, have played down their heroic efforts, insisting that anyone with the right skills would have done the same thing and saved the children.
John Volanthen stated, 'We are not heroes, quite the opposite. It's not like that – if you could do the same for someone else's child, you would. The result is the important thing.'
He added that at the end of the day, everyone was safe and all that mattered.
Another diver, retired Coventry firefighter, Rick Stanton, said that the rescue mission seemed to have lifted the whole country and it all went according to plan. He also added that the boys did well.
The man in charge of the mission, Narongsak Osottanakorn, who engineered the successful rescue of the 'Wild Boars' and their coach from the complex Tham Luang cave system in Chiang Rai, has told that the caves present an opportunity to bring in tourists to the region.
The brave operation was accomplished with the assistance of international rescue workers but also resulted in the death of a former Thai navy seal, Saman Kunan, 38. He died deep inside the tunnel after running out of the air.
Osottanakorn revealed to the reporters, in the aftermath of the famous rescue, that the site will be converted into a museum displaying the equipment and clothes used during the mission.
The idea is to attract tourists and make the area a living museum showing how the rescue mission developed from start to finish.
The Tourism Authority of Thailand also revealed its plan to promote the Tham Luang cave as a tourist attraction, especially after it received nation-wide recognition on the news.
Please fill in your e-mail so we can share with you our top stories!