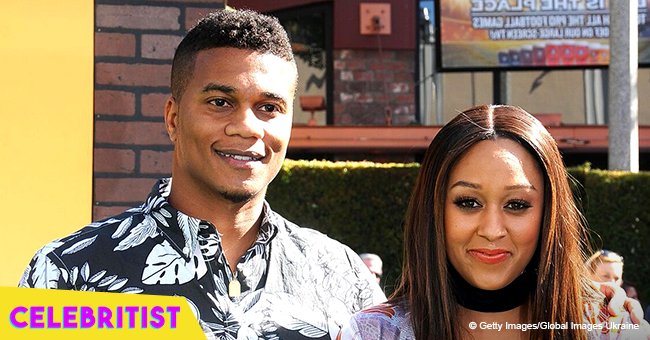 Tia Mowry's daughter rocks white tutu in recent picture with daddy Cory Hardrict
Tia Mowry-Hardrict just recently gave birth to her first daughter. Now that she is growing a bit more, the doting mother has been dressing her up in adorable outfits. Recently, her daughter rocked a white tutu while posing with her happy dad Cory Hardrict.
Sharing a photo of the father-and-daughter duo, she said: "daddy's love with tutus and kisses".
After giving birth last May, Tia shared with People that she isn't in a hurry to get her pre-pregnancy body back, and she doesn't believe women should pressure themselves about this either.
Putting a photograph of herself taken just two weeks after the 39-year-old and her husband Cory Hardrict welcomed their daughter on Instagram, she opened up about how it's "okay to still have a belly" after giving birth.
"This is MY #postpartum. Do I still have a belly? Yes. I actually look like I'm 4 months pregnant and that is OKAY."
Trying to inspire mothers who are frustrated about the same issue, she shared how important it is to give their bodies time to recover from the pregnancy before making any effort to lose their pregnancy weight.
"I wanted to shine a light on how our society creates false expectations after a woman gives birth. Ladies, it's okay that our bodies are not PERFECT after our babies are born. Give yourself time. Go at your own pace. Don't allow people to put a time limit on YOUR body.You've just accomplished a miracle! #Love yourself, love your new body, embrace it. It you want to make changes than that's your desire and no one else's."
Tia and her husband Cory have been posting adorable photos of their two-month-old baby daughter, and the couple is extremely happy with how their life is at the moment.
"Feeling grateful and blessed as we welcome our little baby girl into the world! We are in heaven."
Please fill in your e-mail so we can share with you our top stories!