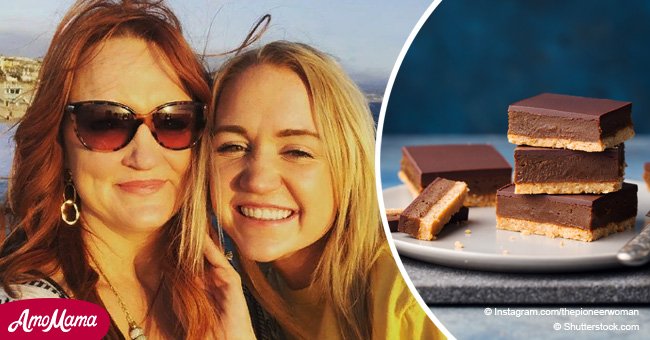 Ree Drummond's chocolate butterscotch caramel bars

If you are feeling sinful and ready to yield to temptation indulge in these caramel bars
Fabled chef and blogger Ree Drummond shared one of her favorite sweet and sticky treats on the Food Network: Chocolate Butterscotch Caramel Bars and they are simply irresistible.
INGREDIENTS
1-1/2 cup All-purpose Flour
1-1/2 cup Regular Or Quick Oats
1 cup Packed Brown Sugar
1 teaspoon Baking Powder
1/4 teaspoon Salt
1-3/4 stick Butter, Cut Into Pieces
2 cans Caramelised Condensed Milk/ Dulce De Leche
Spanish Peanuts
Butterscotch Chips
Mini Chocolate Chips
INSTRUCTIONS
Preheat the oven to 350 degrees. Spray a 9 x 13-inch baking dish with baking spray. Mix together the flour, oats, brown sugar, baking powder, and salt. Cut in the butter with a pastry cutter until it resembles coarse crumbs. Sprinkle the mixture into the pan and pat lightly to pack it slightly.
Bake the base until light golden brown - about 30 to 35 minutes. Remove from the oven and allow to cool for 15 minutes.
Heat the dulce de leche in a glass bowl in the microwave for 45 seconds, then spread it on top of the oatmeal base with a spatula. Sprinkle a layer of peanuts so it covers the caramel. With your hands, gently press the peanuts into the sticky caramel.
Read our Twitter account @amomama_usa for more delicious and quick recipes.
Then sprinkle on the butterscotch chips and the mini chocolate chips in generous layers. Once more, gently press down so the chips adhere to the base.
Place the tray in the fridge and chill it for 2 to 3 hours. Turn the tray onto a cutting board, ease out the caramel bars, and cut into small squares with a serrated knife.
Serve the scrumptious chocolate butterscotch caramel bars cold or at room temperature.
Ree Drummond is a blogger, author, food writer, chef, and photographer and she lives on a working ranch outside of Pawhuska, Oklahoma.
Her stories about her husband, family, and country living, and her step-by-step cooking instructions have made her blog Pioneer Woman one of the most popular in the United States.
Please fill in your e-mail so we can share with you our top stories!