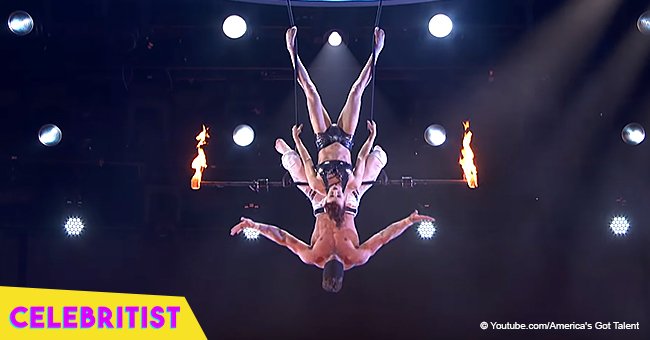 Husband and wife duo's trapeze stunt nearly turned deadly on 'America's Got Talent'
This couple were auditioning for the popular talent competition and were clearly out to impress when their trapeze act nearly ended in a major accident after a blindfold was added to the act.
Mary and Tyce, a married couple from Utah, are also a trapeze act together. This year, they decided to audition for America's Got Talent, and show off their best moves for the four gobsmacked judges and shell-shocked audience.
Their act was going incredibly well, with the judges barely able to watch as Tyce tossed his wife into the air and barely caught her again, while there were plenty of gasps elicited from the watching crowd.
But for the final movement of the act, Tyce pulled out a blindfold, and hung upside waiting to catch his wife without being able to see her. As is to be expected, it did not end very well.
With her head facing down, Mary dropped herself, expecting her husband to catch her by the ankles. Unfortunately, in a heart-in-the-throat moment, her feet slipped through his grip as she fell.
Luckily, she quickly realized she was in a free-fall and managed to twist her body around to avoid landing straight down on her head.
Presumably, this is something they've prepared for, as it's unlikely that Tyce managed to catch her the very first time they practiced this trick either.
After everyone ensured Mary was alright - which she seemed to be given she got up from the stage on her own - the couple actually requested that they be allowed to perform the trick again, to which Mel B vehemently refused to watch it again.
Despite the fall right at the end, the judges were still amazed at the performance, and Ken Jeong pointed out that they had still brought something incredible to the stage.
"It's not America's Got Perfection, this is America's Got Talent. No one can do this. It's ok," he assured them.
"I don't there's ever been a singer on any of our competitions that has been note-perfect. It still doesn't make them not amazing. It makes them human," judge Simon Cowell added to the couple.
"You almost got hurt very badly and your first thought was 'Let me do that again!' only on America's Got Talent does that happen," Howie Mandel told Mary, who was in tears.
The couple explained that the reason they had so much riding on the audition was that they have a two-year-old son, and because they have to travel so often, they are often separated from him as a result.
Their little boy and his grandmother were actually sitting in the audience during the audition.
Please fill in your e-mail so we can share with you our top stories!