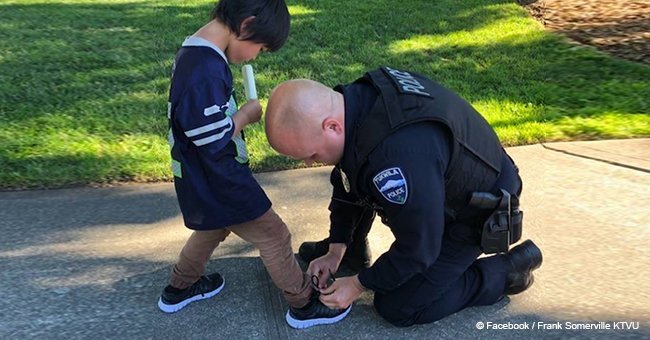 Policeman buys boy a new pair of shoes after seeing him with just bloodied, dirty socks

Two police officers offered a young boy new pair of shoes and also provided his bleeding feet some immediate first aid care.
Tukwila Police Department took to Facebook to post a photograph, which showed one of their officers tying the shoelace of the young boy, whom they found running around in the park in dirty socks.
The officers patrolling at Cascade View Park in Everett, Washington saw the boy running around in torn-up, dirty sock and bleeding from a decent sized cut on his feet.
One of the officers then stopped the boy, cleaned his wound, and patched up his foot with a first aid kit. Then he asked the boy where his shoes were.
Follow us on Twitter to learn more
The boy replied that his last pair of shoes were too small for his feet now, so he did not have any shoes to wear.
The police officer then immediately ran out to buy the boy a new pair of shoes while the other officer stayed with him, giving him company.
'He came back with not only a pair of shoes but also with a bunch of popsicles because what isn't better than a cold popsicle on a hot summer day?' the Facebook post read.
The officer then also helped the boy tie the laces of his new pair of shoes. Later, all of them enjoyed the popsicle together before finally going their separate ways.
The law enforcement officers' kind gesture has been warmly received by the people on the internet. They have shared the story for about a thousand times.
It has also gathered almost 3,000 reactions on Facebook, and more than 250 people have taken the time to comment on their opinions and praises.
Facebook users like Jean Scipione wrote, 'Happy there is still GOOD in this world.' While others, such as Susan Edwards Bringham, thanked the officers for 'going above and beyond' to help someone in need.
Please fill in your e-mail so we can share with you our top stories!