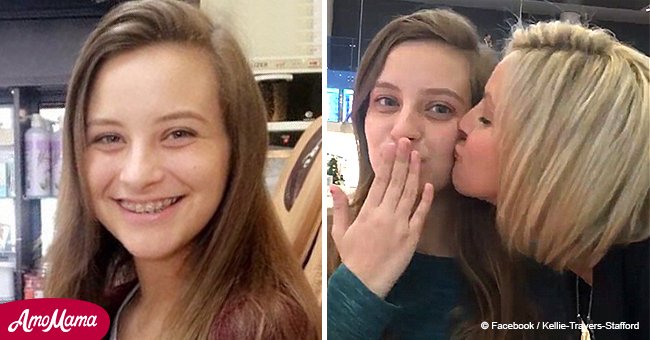 Mom's heartbreaking warning after daughter's fatal allergic reaction to a cookie

A 15-year-old teenager from Weston Florida passed away after she ate a cookie from an open packet at a friend's house. She died 90 minutes later.
Alexi Ryann Stafford had a peanut allergy, and her parents had taught her from a young age what she could eat and what she should stay away from.
She mistook the open packet of Chips Ahoy for a 'safe brand' called Chewy's. Because the flap of the package was pulled back, Alexi didn't realize that it contained peanuts.
Her mother, Kellie Travers-Stafford, shared the incident on Facebook to help raise awareness and get companies to place visible warnings on product packaging.
Alexi ate just one cookie but experienced an allergic reaction within minutes. Her mouth started to tingle, and she rushed home. Read more on our Twitter, @amomama_usa.
'Her condition rapidly deteriorated. She went into Anaphylactic shock, stopped breathing and went unconscious. [...] She died within 1& 1/2 hour of eating the cookie.'
Kellie Travers- Stafford, Facebook, July 13, 2018.
Kellie explained that she felt 'lost and angry because [Alexi] knew her limits and was aware of familiar packaging' but one slip-up cost her life.
Her family administered two epi pens to combat the allergic reaction but it was too late and despite their efforts, Alexi went into anaphylactic shock.
She explained that Chips Ahoys contains Reese Peanut Chips and that the company has different colored packaging to indicate whether the cookies are regular, chunky or chewy.
However, the warning wasn't as visible as it could have been and placed people with allergies at risk, especially younger children.
As reported by Daily Mail, Chips Ahoy said in a statement that their products are clearly marked on the information panel of the packets.
The packaging color only indicates the type of product and not any allergens it might contain, but they claimed to take peanut allergies 'very seriously.'
Please fill in your e-mail so we can share with you our top stories!