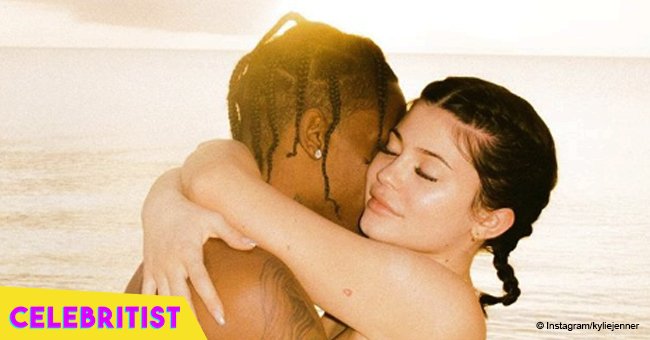 Kylie Jenner reveals real reason why she's rarely seen in public with Travis Scott

Kylie Jenner and Travis Scott finally sat down and opened up about their relationship explaining why they remain elusive and are hardly seen together. According to the couple, there's a logical explanation which keeps them from yielding to the 'Kardashian Curse.' A video also reveals how well Travis knows his girlfriend and what he apparently doesn't know about her.
Kylie Jenner and Travis Scott are already parents to Stormi Webster in the one year they've been solidly dating, but the couple's relationship remains a mystery as they're hardly seen together. During their first joint photoshoot for GQ magazine, the elusive pair finally opens up about the reason why they make a conscious effort to stay apart and keep their romance private.
Writer Mark Anthony's first impression of the pair was their stark contrast when it comes to the limelight. While Kylie jumped right into the shoot like a pro, her baby daddy was more reserved and uncomfortable about getting his photo taken. As Green described it, it was like the rapper was being tortured the whole time.
Through the course of their interview, it was revealed that their difference in dealing with the public eye is the exact reason why their relationship works. Kylie says they combat the 'Kardashian Curse,' aka the drama that surrounds men who date the intensely famous Kardashian women, by trying to keep their relationship private and allowing Travis to stay away from the limelight which would also mean staying away from each other.
"I don't think he's really cool with [the scrutiny], but he deals with it, because we love each other and we have a family. For sure, I know he doesn't like the attention. That's why we just go the extra mile to keep our relationship super private, or like, if he has events or something, I won't come. Because I want him to do his own thing. I want him to be him. I don't want it to be Kylie and Trav. If people don't ever see us together, that's okay with me, because we just do our thing."
But while they're often perceived as regularly apart, Kylie says they both work hard at their relationship. She even recalled ditching an interview and flying to Houston just to see Travis when they were having a fight. As for Travis, he doesn't let the "Kardashian Curse" bother him one bit.
"I don't even be looking at motherfuckers. I don't be looking at shit. Kylie actually likes me for me."
In a video they also filmed for GQ, the couple took on a quiz challenging how well Travis knew his girlfriend. The funny clip was a fresh view of the couple who discussed peanut butter and jelly sandwiches for several minutes and let slip that Travis didn't even know the names of Kylie's three dogs or how many tattoos she has.
Here's more of the video revealing 23 questions Travis had to answer about the mother of his child.
Please fill in your e-mail so we can share with you our top stories!