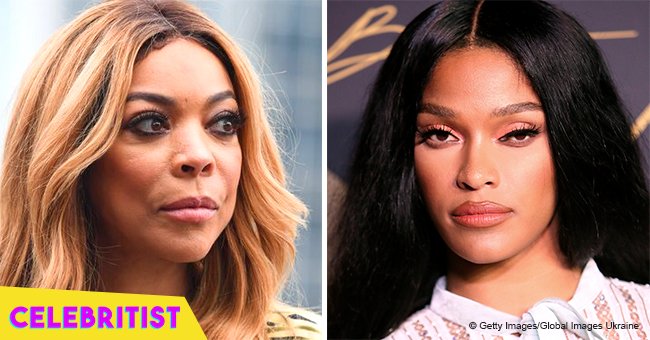 Joseline Hernandez calls Wendy Wiliams a 'fake' on the TV host's birthday

The 31-year-old reality television personality and actress Joseline Hernandez lashed out at The Wendy Williams Show host on social media.
Hernandez took to Instagram yesterday and shared with her 2.3 million followers a photo of Williams wearing the Statue of Liberty outfit.
She wrote in the caption: 'Happy happy fake [expletives.]' Her followers took the comment section and a user known only as That Number One Chick Always told Hernandez that she was better than this.
SoBrite Jones said Hernandez was 'tacky' and corny. He added that Wendy Williams 'shows you as much love as you allow,' and included #unfollow and #byegirl.
As reported by Hot New Hip Hop, the vendetta between Williams and the Joseline Takes Miami Star has been brewing for a while.
Back in November, Williams shared her opinion about Hernandez on her talk show while discussing her new album with Gary Owen.
"I just find beefs really corny because whoever the bigger person is, is giving credibility to the smaller person - I'm not saying that Joseline is small, I'm just saying that she's no Cardi B."
Wendy Williams, YouTube/The Wendy Williams Show, November 17, 2018.
She went on to explain that Cardi B, on the other hand, "came from nothing" and made something of her life, even though she was only 25 years old.
According to Hollywood Life, Hernadez was at the center of controversy after her breakup with Stevie J.
Hernandez, Stevie J and Bonnie Bella were scheduled to appear on Williams' show six months before Williams compared her to Cardi B.
Stevie J refused to share a stage with Bonnie Bella, who was also the mother of his child. He feared the repercussion of being placed in the hot seat by the women in his life.
The couple broke after a fight about Stevie's relationship with another woman, Estelita Quintero, and Hernandez was convinced that the Love & Hip Hop: Atlanta star was cheating on her.
Please fill in your e-mail so we can share with you our top stories!