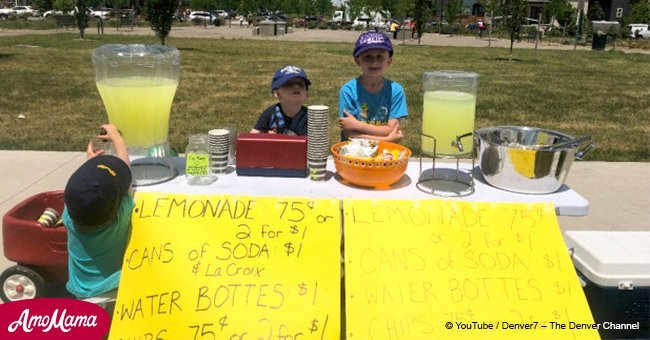 Neighbor calls police on kids who set up lemonade stand
Jennifer Knowles' children were asked to shut down their Memorial Day lemonade stand after the neighbor called on the police against them.
According to Fox 4, the boys put up the lemonade stand across the street from their house in the Denver suburb of Stapleton, Colombia.
The disheartened mother stated that she wanted to teach her children the value of being an entrepreneur and running one's own business.
"My 6-year-old got his little toy cash register out that he got when he was about 2 or 3 and he was learning how to interact with customers and about customer service," Knowles told the source.
Follow us on Twitter to learn more.
Unfortunately for her, only half-an-hour after the boys set up their lemonade stand, police officers approached them and questioned them about a permit for putting up the stand.
Knowles explained that since she and her boys did not have permits for the lemonade stand, the authorities had to shut them down and stop their business with immediate effect.
The officers revealed that Knowles' neighbor had complained to the police against her boys, who were of ages 4 to 6. She said that the children were planning to donate the proceedings to Compassion International, which is a charity group.
The source informed that, as per Communications Program Manager Alexandra Foster, the permit laws for the business run by minors are not strictly monitored. However, law enforcement officers will have to respond if a complaint is received.
"If our inspectors go to a lemonade stand, it means we've received a complaint, and, generally, complaints stem from high levels of activity or noise that disrupts neighbors," Foster added.
Knowles also admitted that the police officers themselves "couldn't have been nicer" but they had to respond to the complaint. "It makes me sad someone would do that," she added.
Please fill in your e-mail so we can share with you our top stories!