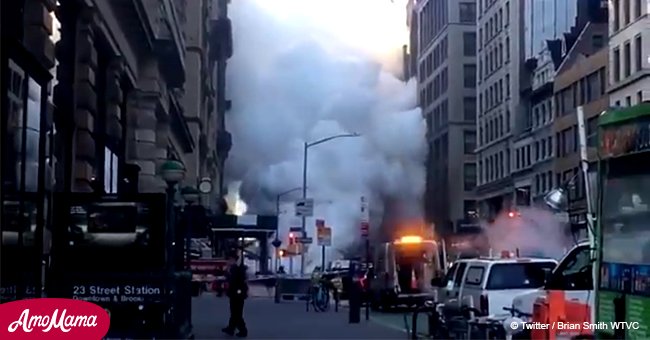 Massive explosion reported on Fifth Avenue
On Thursday morning a steam pipe exploded in Manhattan causing havoc for commuters who were making their way to work. Water and big plumes of smoke covered the area.
According to Daily Mail, people were evacuated from surrounding buildings. Investigators are yet to confirm what caused the explosion.
The steam pipe explosion happened at around 6.40am on Fifth Avenue in the Flatiron District of Manhattan, New York. It occurred between 21st and 22nd street.
At first, it was categorized as a 2 alarm incident but it quickly rose to be a 3 alarm within an hour of the explosion. An FDNY spokesman said there were no injuries.
For more on this story go to our Twitter account @amomama_usa. The explosion was believed to have come from a pipe in the street.
Despite this, authorities evacuated people in surrounding buildings as a precautionary measure. The spokesman described it as a 'high-pressure steam leak,' with further investigations in the matter underway.
People on the scene shared photographs of plumes of steam billowing down and up the iconic street. Firefighters worked to try and get it under control.
Huge clouds of smoke covered surrounding landmarks like The Empire State Building and the Flatiron Building. It made them impossible to see, that's how high the smoke was.
The explosion also caused traffic on the busy avenue between 20th and 23rd street to shut down. It also wrecked havoc on the subway system.
The blast was said to have blown a large hole in the middle of Fifth Avenue. It sent chunks of asphalt into the street.
At the time of the incident, the following streets were closed to vehicle traffic: West 19th Street to West 23rd Street and from 6th Avenue to Broadway.
Please fill in your e-mail so we can share with you our top stories!