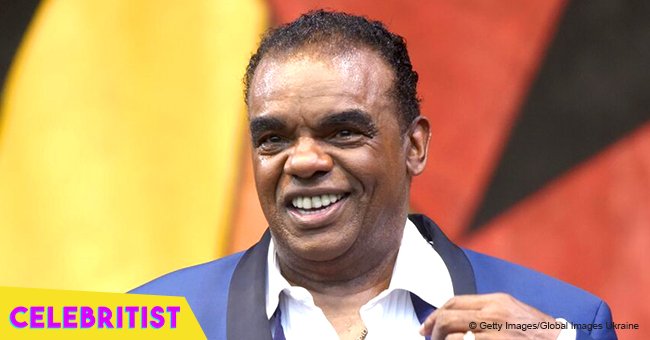 Ronald Isley's 35-years-younger wife shares selfie with their son who has dad's smile
The American recording artist, songwriter, record producer, and occasional actor has a son with his second wife, and he's growing up quickly if new photos are any indication.
Ron Isley was married to Angela Winbush from 1993 until 2002, when they quietly divorced after she beat ovarian cancer. He also has two daughters from other relationships, Trenish and Tawanna.
After that, he married a woman 35 years his junior, Kandy Johnson Isley, in 2005. In late 2006, the couple welcomed a son, Ronald Isley Jr.
Kandy recently took to her Instagram account to share a photo of herself and Ronald Jr., where the mother-son duo looked excited while sitting on a plane on their way off to enjoy another adventure.
"On the road again #summerdaze #showtime #myson#ilovemyfamily," Kandy captioned the sweet shot.
While she wore a tan and black patterned long sleeve shirt, red lipstick, and a pair of dark sunglasses, Ronald Jr. wore a black t-shirt with a logo. Both smiled at the camera for the shot.
In the image, it seemed apparent that Ronald Jr. may be his mother's mini-me, but it looks as though he has inherited his famous father's smile.
In another recent Instagram photo shared by Kandy, she could be seen with her husband and their son as they celebrated another family member's graduation.
"With our G-son Geo! He graduated today who is on his way to college @HowardUniversity to play football #bison #collegeboundCongratulations!!!@gcgiv #newjersey," she captioned the shot.
Ron has not had a scandal-free life by any means.
In 2004, he was on tour in London with touring with his brothers, he suffered a mild stroke. In 2007, it was reported that he had kidney problems.
And in between, in September 2006 while Kandy was heavily pregnant with their son, he was sentenced to three years in prison for tax evasion.
It was a surprise to many when Ron exchanged vows with his bride Kandy in 2005, who is 35 years his junior. Due to their age gap, many were suspicious about her reasons for marrying him.
At the wedding ceremony, she donned a $15,000 wedding gown, and Ron gifted her with a $3 million necklace. Aside from that, he also slid a big 14 carat diamond ring into her ring finger.
However, the two recently sat down to clear the air about why Kandy married Ron in an interview with I Love Old School Music.
Prior to getting married in 2005, they first dated for 7 years, and Kandy wanted to explain exactly what had attracted her to the much older man.
"He's a GENTLEMAN! I mean, you're talking about romance, he puts the 'R' in romance...from fine dining, to treating a woman like a man should, with respect. As we developed a relationship, we had a lot of things in common and Ronald...even though he's older, he's young at heart," she gushed.
Please fill in your e-mail so we can share with you our top stories!