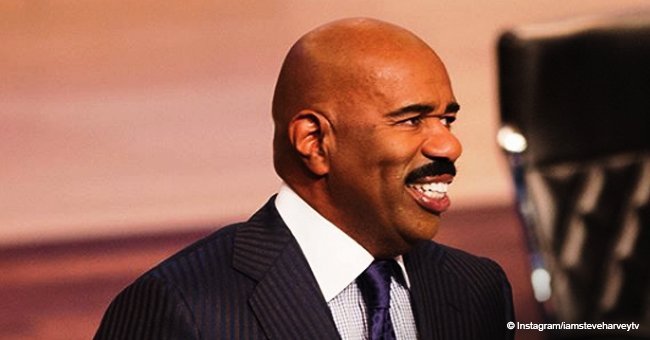 Steve Harvey shares photo of his youngest son celebrating 21st birthday

The American comedian, television host, producer, radio personality, actor, and author is also a family man, with a loving wife and four children.
Steve Harvey's youngest son, Wynton Harvey, celebrated his 21st birthday on July 18. The proud papa took to his Instagram account with a photo of the youngster on his milestone birthday in honor of the special occasion.
The photo, which showed Wynton standing at the table looking at something on it, had him surrounded by balloons, including a large rose gold balloon in the shape of the number "21."
"Happy birthday to my youngest son WYNTON ...... one of my great joys ......" Steve captioned the photo of his son.
Wynton wore a black and white checkered shirt in the image, and a black baseball cap. The balloons in the background were gold and turquoise, and a banner that read "hip hip hooray" was strung up in the doorway behind him.
The post received almost 67,000 likes in just 1 day, and plenty of fans flocked to the comments section to wish Wynton a special birthday as well
Wynton may only be 21 years old, but he's already got his fingers in all sorts of pies. He's a published photographer, and knowledgeable about fashion.
He's also quite the philanthropist, and hopes to do plenty of good with the fortune he intends to earn himself. While he's got plenty of seriously big plans, Wynton is also quite the funny man, with agreat sense of humor.
In a guest appearance on Father's Day on his father's talk show, Wynton appeared with a surprise gift for Steve in celebration of the occasion: a pair of shoes that he himself wants.
But things got really funny when Steve asked him where he got the money to afford the shoes.
"You see, you guys have an account at the store. So I just went in, put them on there...it's ok, happy Father's Day! It's almost like you bought them for yourself, but it's the thought that counts though, " he told his gobsmacked father to plenty of laughter from the audience.
While he seemed highly amused with the trick, he did get a smack in the stomach from his father with the shoe.
Wynton also has a close relationship with his stepmother, Marjorie Harvey, who his father wed in June 2007. Despite being a stepmother, Wynton has shared that he sees her as a mother.
In October 2017, when Marjorie celebrated her birthday, Wynton took to Instagram with a touching post of him hugging her on the beach to wish her a lovely day.
Please fill in your e-mail so we can share with you our top stories!