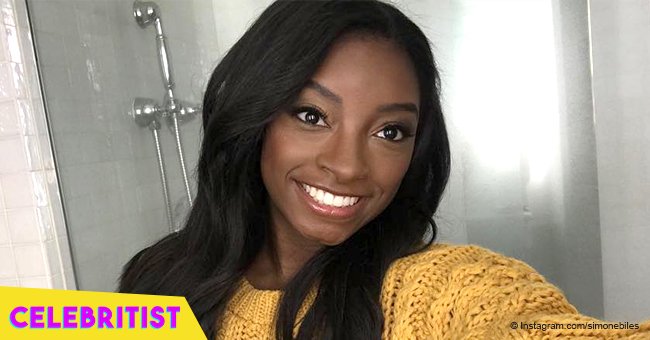 Simone Biles flaunts legs in mini skirt and black heels on girls' night out
Olympic gymnast Simone Biles has been enjoying her summer in the company of her handsome boyfriend, but it seems like she decided to have a girls' night out to make a difference, and she looked stunning.
The 21-years-old gold medalist has been flaunting her muscled abs all over Instagram in the past days, as she enjoys basking under the sun with her boyfriend, Stacey Ervin. The happy couple has been together for almost 11 months, but they first met at the P&G Gymnastics Championships years ago.
Simone made their relationship public in August 2017 by posting a sweet picture to Instagram hugging Ervin and looking adoringly to him as she merely wrote in the caption "Always smiling with you."
Earlier this year, Biles surprised the world when she released a statement confessing she, like many other athletes, was abused by doctor Larry Nassar. Simone took to Twitter to share a lengthy post explaining her situation and why she didn't speak before and wrote:
"For too long I've asked myself, 'Was I too naive? Was it my fault?' I now know the answer to those questions. No. No, it was not my fault. No, I will not and should not carry the guilt that belongs to Larry Nassar, USAG, and others."
However, seven months later, Simone is back to her bright, happy self, and she's enjoying life to its fullest in the company of her loved ones. Especially her athlete boyfriend, who, like her, was part of the US national gymnastics team in 2013.
Simone and Stacey have been flaunting their body goals all over social media as they enjoy the beach, river and car rides around town.
However, it seems like the stunning lady decided to leave her boyfriend for one night on Saturday, as she explained on Instagram she was going on a girls' night out.
Simone shared a mirror photo showing off her outfit, and she looked incredible. She wore an off the shoulder short black top with long sleeves that put her toned abs on display, an olive green mini skirt, and black strappy heels.
Her followers immediately filled her comment section with praises about her outfit and her body. Instagram user @martigirl05 wrote "More like abs night out," @laura_rz21 said "Lookin good Simone. Love your outfit," and @honey.babyy_ added "I absolutely LOVE your body and how you embrace it! You are so beautiful and an inspiration!"
We're glad to see Simone having fun before she has to go back training for her future competitions.
Please fill in your e-mail so we can share with you our top stories!