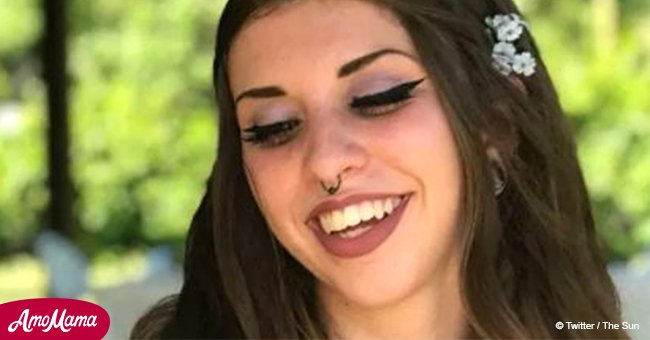 Man doesn't expect such punishment after impertinently groping waitress' backside
Emilia Holden, a waitress from Georgia, has become an internet sensation for defending herself after having her buttocks groped by a man named Ryan Cherwinski.
The incident took place on June 30, 2018. 21-year-old Holden was in the middle of her shift at Vinnie Van Go-Go's Pizzeria, in Savannah, when she felt her behind being touched.
She immediately turned around, grabbed the man by his collar and slammed him against the counter, with the surveillance footage ending up being shared on Youtube.
According to Holden, she had never done anything like it before and was quite surprised by her own reaction to the assault. At first, she even believed that it was one of her friends who was playing with her.
Please consider following us on our Twitter account @amomama_usa to learn more.
She quickly threw that thought aside when she felt Cherwinski's hand go further than expected, which caused her to turn around to see who the person was.
When she realized that a complete stranger had touched her inappropriately, she lashed out in self-defense, much to the delight of the customers who quickly picked up on what was going on.
Holden recalls yelling at Cherwinski and telling him not to touch her. The 21-year-old then asked a co-worker to call the police, which arrived a few minutes later.
31-year-old Cherwinski claimed that he was just trying to push her out of the way as he was heading towards the back of the restaurant, but the surveillance footage couldn't be clearer.
After watching the video, the police officers immediately arrested Cherwinski, which made Holden very happy. According to her, she knew that something like this was bound to happen sooner or later and that she was glad to see the law take care of the situation.
Holden wishes for women who watch the video to realize that they too can stand up for themselves and that they have the right to wear whatever they want without having to worry about being sexually assaulted.
Since the attack, the waitress has been using her sudden fame to benefit a local animal shelter through a GoFundMe Page, which, so far, has raised nearly $8,000.
Please fill in your e-mail so we can share with you our top stories!