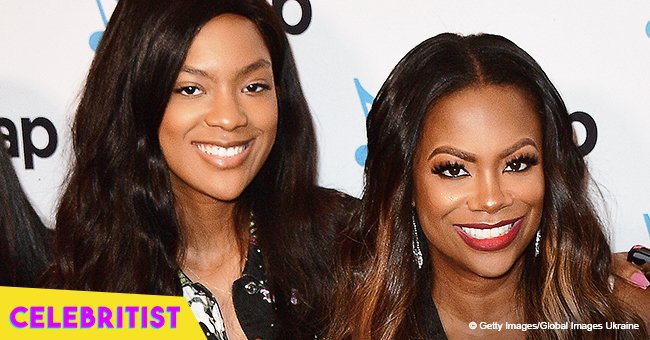 Kandi Burruss' daughter shares workout video, showing off major weight loss
At 15-years-old, Riley Burrus is already becoming an inspiration for young people who are struggling with their weight or self-love. Her mom, Kandi Burrus, couldn't be prouder of the girl now that she started her first internship at a law firm.
"Real Housewives of Atlanta" star, Kandi Burrus, is a proud mom of three: her husband's daughter from another relationship, Kaela Tucker, their 2-years-old son Ace, and her daughter Riley, from her relationship to Russell Spencer.
The 15-years-old girl, who has been featured on the reality show in several occasions, has become an inspiration for many young people after losing 52 lbs in the last eight months by following a strict workout routine and nutritional regimen.
She recently shared two clips to Instagram showing off how the improvements in her boxing routing and her slimmer figure.
In the first video, taken months ago, Riley was visibly slow and trying to keep up with her trainer, but in the second one, not only was she fast and assertive but also sporting tighter clothes that hugged her new figure amazingly.
According to Kandi, Riley was always bullied on social media because of her weight and height, so she decided to take her overweight seriously last September and started a fitness journey that is already showing some wonderful results.
Kandi shared a side to side picture on Instagram comparing Riley's figure a few months ago, when she was weighing 220 lbs, with a most recent one after she lost 52 pounds. "Y'all just don't understand how hard it is to grow up in front of the public eye & in front of social media trolls who make negative comments about kids weight," said Kandi.
"Luckily Riley has tough skin & doesn't let it bother her, but as her mom it used to piss me off when trolls would make negative comments about her size. Nobody knew she was over 200lbs because my daughter is tall. She's 5'9. & to be honest she wouldn't tell anybody how much she weighed but now she proudly shares it because she wants to motivate other people who are going thru the Weightloss struggle."
Riley shared the same picture to her account, and she wrote an encouraging message for people that, like her, are struggling with their weight loss journey saying:
"My journey is not over. I have larger goals I am trying to reach and I hope everybody follows me throughout my journey. I've been seeing peoples comments about them struggling with weight loss. I know the struggle & its real. But it can be done. Roll with me and lets do it together! & i just want to thank everyone for your supportive comments!"
Burrus is making significant improvements in her life, as she recently attended Stanford University in California for their Envision Law and Trial program, which allow teenagers to explore the legal field first hand before they have to choose their careers in college.
Kandi also shared that at 15, Riley already had her first internship at a law firm, and she couldn't be prouder of her mini-me. "Yesterday was a big day for my baby girl!" Kandi wrote on Instagram. "@rileyburrus had her first interview & then her first day of her internship at a law firm! I was so excited for her."
We're glad to know that Riley has the same fire to accomplish things as her mother, and we can't wait to see more of her fitness journey now that she created a YouTube Channel to share it with fans.
Please fill in your e-mail so we can share with you our top stories!