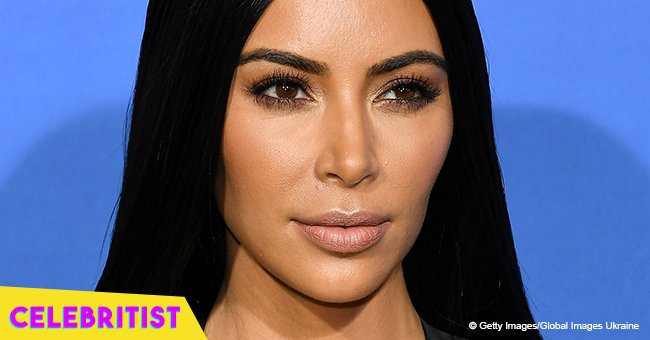 Kim Kardashian melts hearts with new videos of son Saint with full head of curly hair

Kim Kardashian West took to Snapchat to share a short video next to her son, Saint, while using one of the filters the social media has. The boy didn't like it at all.
The Instagram account Kim Kardashian Snap shared the video on its page, and it showed Kim using the filter that paints people's lips in purple and draws a rainbow on their cheek.
Kim revealed that she loved that filter but that the only problem with it was that it could only be placed on one person. After that, she started playing with Saint's hair, who was right next to his mother. His face showed that he was surprised and a bit scared, too.
The proud mother kissed Saint and told him that she loved him, but the boy said that he didn't want the filter in Kim.
She wondered if he wanted the normal Kim to be back, but his face spoke louder than words, and Kim noticed as she seemed to be surprised when she said: 'That face! My goodness.'
While Saint is not a big fan of the Snapchat filters, one thing is sure: he loves his baby sister Chicago. In a video shared by Kim earlier this month, Saint could be seen leaning in to kiss his six-month-old sister shared on Kim's Instagram Story.
The businesswoman even captioned the post saying that Saint loved his 'sissy,' an aspect more than evident in the recording.
Later, Kim shared another video in which she asked Saint what Chicago's name was. The boy quickly replied: 'Jack-Jack,' referring to the baby boy portrayed in The Incredibles and its sequel.
A surprised Kim asked him who Saint was, and the boy admitted he was Dash, the second youngest member of the superhero family.
Finally, the proud mother asked Saint who she was, and the boy said: 'Elastigirl.' A third video showed Saint complaining because 'Jack-Jack' licked his finger.
The TV personality couldn't hold her laugh and told Saint that he should get his finger out of Chicago's mouth.
Please fill in your e-mail so we can share with you our top stories!