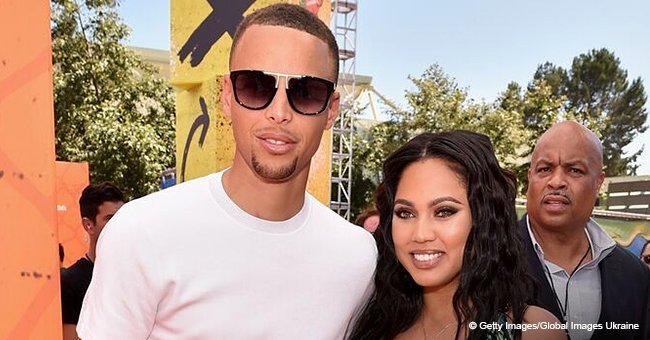 Stephen Curry's wife shares video of daughter dancing next to her own car on 6th birthday

Ayesha Curry recently became a mother for the third time, and all her children share the same birthday month, which makes July very special for the Curry family. Her eldest, Riley, is charming fans on social media with her dancing skills and confidence.
The Currys are still on cloud nine after the birth of their baby boy, Canon, on July 2. But the celebration hasn't stopped in their household, as they celebrated daughter Ryan's 3rd birthday on July 10 and now Ryan's 6th birthday on Thursday
To celebrate Ryan, Ayesha shared a video of the girl on Instagram dancing to Drake's "In My Feelings," as part of the latest internet trend, the #InMyFeelingsChallenge. The little girl showed her confidence as she stepped out of her mini car to prove she has impressive dance moves and a lot of confidence.
Wearing a floral printed black dress and her hair on braids, Ryan dancing to the song following the exact dance moves that stars like Ciara, Lala Anthony, Michael Strahan and more did on their respective challenges.
Ayesha explained that she tried to dance but failed, so she shared her daughter's video instead. She wrote in her caption:
"Turn 6 and hop out the whip like... my attempt was a fail so here's my Riley roo's in honor of her bday. "Mommy, do you love me. Are you riding?" @stephencurry30"
The 29-years-old famous chef and cookbook author also shared a beautiful set of pics of her beautiful girl to congratulate her on her birthday and gush about her on a caption that says:
"Our big girl is SIX years old today. WHERE DOES THE TIME GO?! I remember taking her to her 1 week doctor check up like it was yesterday. Now she'll be going into first grade in a few short weeks. Confident, smart, poised and a tad bit too sassy LOL. I love everything about my ryry. The world is yours baby girl. My first born. Mommy's girl, daddy's world."
A few days ago, Ayesha shared a personal essay she wrote for Go Inspo talking about her baby's nursery and taking care of three children at the same time.
"We feel so blessed that God blessed us to be Canon's mommy and daddy and we've definitely been basking in our new addition for the past 2 weeks round the clock. I truly wouldn't have it any other way," she wrote.
And added:
"Right now life is all about navigating how to manage a household w three young children (beautiful chaos), pumping, nursing and changing diapers. If you were a fly on the wall, there certainly would never be a dull moment."
She also revealed that Canon seems to have three moms because his sisters can't get enough of him and are helping Ayesha with everything.
Please fill in your e-mail so we can share with you our top stories!