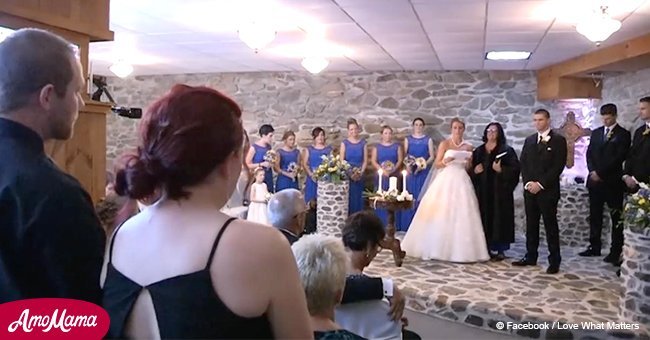 Bride wows wedding guests with emotional speech to groom's ex-wife
Katie Hild said her vows to not just her husband-to-be, Jeremy, but also to his son, Landon, and to his ex-wife, Casey.
By reading the vows to all the people who are going to be a crucial part of the family for her, Hild wanted to make sure that she was stepping into a relationship not just with Jeremy but with other important people in his life as well.
The emotional video was posted on Facebook by Love What Matters, which showed Hild first reading her vows to Jeremy, and then turning to his little son, Tyler.
At the end of her reading, Tyler and Hild take each other in a warm embrace, and Tyler given gives her a kiss, creating another tear-jerking moment.
Follow us on Twitter to learn more.
The proud father and husband-to-be, Jeremy, cannot contain his emotions as he is seen covering his mouth and bursting into tears.
In the description to the video, the Facebook page quoted Hild as revealing that she did not tell anyone about her plans regarding reading the vows.
'I wasn't just going into a marriage with Jeremy and needed his trust and respect, but I needed Casey's and Tyler's, too. One thing I promised, was to be ONE family, always,' Hild admitted.
She also described parenting as 'hard and amazing' but co-parenting as a 'blessing.' She explained that it required 'true understanding and support' from the people who are closest to you, to make it successful.
She also left a beautiful message for everyone, who was struggling with co-parenting.
She stated, 'Not everyone gets the luxury of having a relationship like we formed; but it's possible to get along, communicate, and give the same rules/love/respect on both sides for your child/children. Go against the norm. BE that CHANGE.'
The video is absolutely adored by the people on social media. It has gathered over 1.7 million views and over 11,000 reactions so far.
Please fill in your e-mail so we can share with you our top stories!