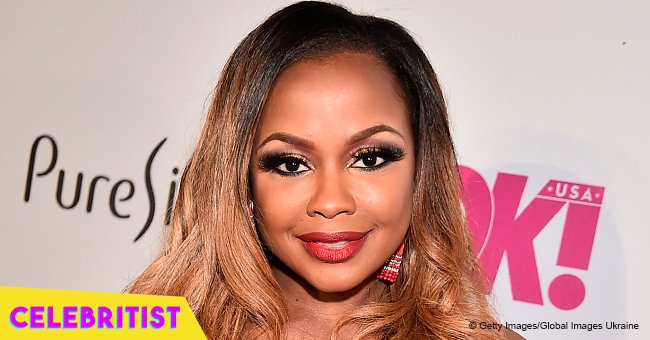 Phaedra Parks allegedly reveals she'll star in new TV show with a Braxton sister in recent video

Phaedra Parks is set to star in a new show following reports she sold one of her mansions earlier this month.
It's confirmed. Phaedra Parks will be starring in a new TV show and she also revealed who her future co-stars will be.
In photos and a video the former 'The Real Housewives of Atlanta' shared, she posed alongside Traci Braxton, Natalie Nunn, and Lunell, three ladies she'll be working with in the show which title and format have yet to be disclosed.
It's unclear whether it will be a talk show or a reality show but what's evident is Phaedra's excitement for the new adventure. She posted three photos lately where she's glowing, "happy and they know it" as one of her captions reveals.
Fans are equally ecstatic at the news despite not knowing more about the show. One fan wrote,
"don't know what exactly this show is about but due to the cast I bet it's something crazy I know right her name is Luenell she's a comedian a hilarious lady as a matter of fact but I will not watch this show, and Traci will beat the s*** out of Fakera. They can enjoy Natalie to themselves.. we good Luv."
Another chimed in.
"Outcast!!!! But why is @luenell on it folks genuinely love her… Well, maybe not other comedians she is raw asf. If it's a talk show, it's going to be good because all of them are very different… I highly doubt it's a reality show because they are all getting along and some of them don't even live in CA. Good for them I hope it does well. Haters get the f%ck off Phaedra, Traci, and Lunell they the real ones and this sh%t is about to be lit."
News of Phaedra's new show comes in the heels of the other news that the lawyer just sold one of her homes. Her Chastain Park mansion has been reportedly sold for $950,000 earlier this month after knocking down the price from its original $1,195,000 price tag. But it's still a win for Phaedra who bought the 4,453 square foot property for only $845,000 in 2013.
Meanwhile, Phaedra still has another home where she currently resides which is double the size of the house she just sold. She bought the property for $1.9 million right before she got fired from 'RHOA' after admitting spreading false rumors about her co-stars Kandi Burrruss and Porsha Williams.
Please fill in your e-mail so we can share with you our top stories!