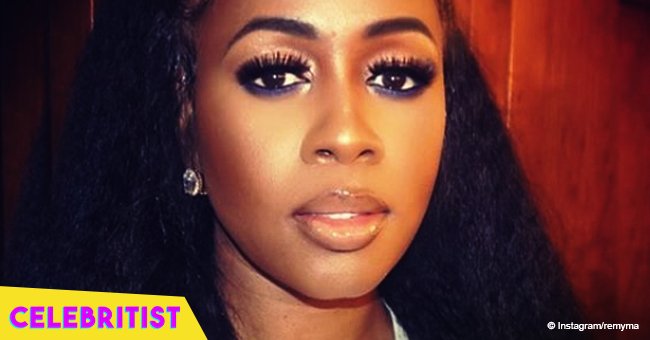 Remy Ma flaunts growing baby bump in skin-tight camouflage bodysuit in latest video

Remy Ma glows in her latest video where she fashions her glorious hair and gives a peek at her baby bump in the process. The singer is expecting her first child with her husband Papoose and made the announcement during their recent renewal of vows.
Weeks after her big announcement of a baby on the way during her renewal of vows with her husband Papoose, Remy Ma shares a video debuting her baby bump.
The 38-year-old soon-to-be-mom wears a tight-fitting camouflage pantsuit as she fidgets with her long wavy hair in the clip she posted. She explains in her caption how her hair arrived at that glorious look enumerating the steps it took to get there. She also credited the people who took part in the 4-part process which according to Remy involved the following:
"The Hair Process

1. Got my natural hair washed, deep conditioned, blow dried & braided @ConceitedTheSalon

2. My sister @_Raemonique got me the @RoyalHairDelivery bundles

3. My baby @AndreCavasier bodied my unit

4. And the "privileged" @TB_Hairstylistfinessed the layering & styling

Camp One-piece @vimvixen

#TeamWork #RemyMa #RemyMafia"
However, the rapper knew the video would also be an opportunity for her fans to scrutinize her baby bump so she added a note below her caption to address that.
"go ahead...zoom in trying to spot the "baby bump""
Indeed, if one looks closely through the camouflage print of her outfit, there is a tiny baby bump peeking out of Remy's body, not that fans require any confirmation that she's pregnant. She and her husband already did that when they surprised their guests at their renewal of vows with the announcement. In a video she shared from the occasion, Remy in her wedding gown gets a hold of the mic and tells their guests,
"Although we told you all guys we were bringing you out here to renew our vows, which we are, we also wanted all of our family here when we told you guys…"
As she leaves her words hanging, Papoose cuts in and holds on to her belly pronouncing,
"We're going to have a baby!"
Guests cheered in delight, but no one was as delighted as the couple who'll be welcoming their first child. However, it's not an easy pregnancy for Remy who revealed in her caption accompanying the video that she already lost 7 pounds from feeling sick. She also revealed she was four months pregnant then.
Now it seems Remy is feeling better as she fashions her bump and glows with it. In time, she should be hitting the 5-month mark and her bump should be more visible by then.
Please fill in your e-mail so we can share with you our top stories!