Kimora Lee Simmons' daughters look amazing in clothes designed by their mom
Ming and Aoki Lee are no longer the little tots who used to strut along the catwalk with their mom. Now, the grown-up ladies are ready to take over the world by themselves, but they still have time to model for their mother's new fashion collection.
Former supermodel and now fashion designer Kimora Lee Simmons has always involved her daughters in her business. The teenage girls, whom she shares with Russell Simmons, started modeling from a pretty young age for Baby Phat, the clothing line Russell and Kimora created back in the days.
Now, Ming, 18, and Aoki, 15, are two beautiful and smart young ladies. While Ming has decided to pursue a career in modeling following her mom's steps, Aoki has been focusing on her studies and the volleyball team of her high school.
However, when it comes to modeling for their mom, the girls are always up to the challenge.
In the recent photoshoot for Kimora's Resort 2019 collection, Ming and Aoki proved they carry the love for the cameras in their DNA.
While Aoki rocked an all-white ensemble featuring wide leg pants, a top and a jacket with striped blue details in the sleeves, Ming rocked a black short top, and jacket with white details in the sleeves.
Kimora, always the proud mom, wrote in her caption:
"My little girls have grown into strong supportive young women! Loving this #bts moment of @mingleesimmons & @aokileesimmons on the set of my #resort19 shoot!  #mybabies #sisters."
Even though they share the same disposition to help their mom out and Kimora's altruistic spirit, Aoki and Ming couldn't be more different.
The eldest just graduated from high school and her Instagram is the perfect depiction of how much she is into fashion, makeup and modeling.
Aoki, on the other hand, is on her last year of school and currently enjoying an archeological trip to Spain with friends.
Last month, the 15-years-old girl shared a message to her Instagram talking about the bullying she has received on social media and why she has decided not to let haters ruin the perception she has of her beauty.
"I used to be very picky about pictures and not really show my face," she shared, "and would often not post pictures of cool events or important moments because I didn't like my smile or I was standing next to my beautiful sister. It's easy to get insecure when your sister and mom are models."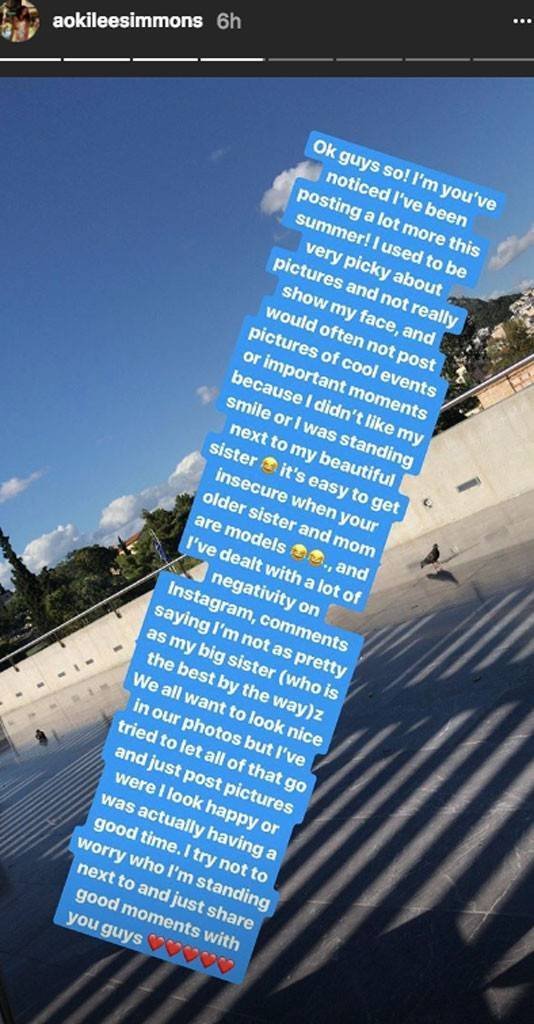 And continued
"I've dealt with a lot of negativity on Instagram, comments saying I'm not as pretty as my big sister (who is the best by the way). We all want to look nice in our photos but I've tried to let all of that go and just post pictures where I look happy or was actually having a good time. I try not to worry who I'm standing next to and just share good moments with you guys."
Aoki has been getting a lot of support from fans ever since, calling her beautiful and praising her for showing such maturity at her age.