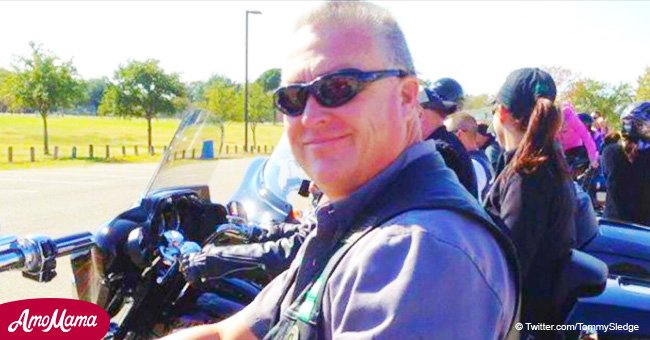 Officer killed in crash during funeral procession for fellow policeman who died of cancer

A Dallas motorcycle cop was killed by a DUI driver while riding in the escort of a dead colleague's funeral
A tribute to Officer Tyrone Andrews who died of cancer on July 14 ended in a tragedy a week later when one of his fellow police officers who was escorting his body to his hometown in Louisiana for burial, was killed in a senseless accident.
A motorcycle officer with the traffic unit, Sr. Cpl. Earl "Jamie" Givens, was riding ahead of the funeral procession, flashing his motorcycle lights to block traffic from entering Interstate 20 until the cavalcade had passed.
Givens was stationary on his motorcycle with his emergency lights on when the driver of a Kia Sportage struck him, then crashed into a nearby barrier, reported DPD Beat.com.
"We are just asking you to keep the Givens family in your prayers. Keep the Dallas Police Department in your prayers. Keep the city of Dallas in your prayers."
Dallas Police Chief U. Renee, DPD Beat.com, 21st of July 2018.
Given's fellow officers tried to keep him alive until paramedics arrived, but his injuries were too severe. He was pronounced DOA at the Baylor University Medical Center in Dallas.
Read more about this case on our Twitter account @amomama_usa.
The driver of the vehicle was identified as Adrian Breedlove, 25. He has been charged with intoxicated manslaughter and unlawfully carrying a weapon, and is being held on a $76,000 bail.
The Dallas County district attorney's office announced that the accident was still under investigation and that any substantiated charges will be prosecuted to the fullest extent of the law.
His fellow officers described Givens as "a great guy with a great big heart," who was actively involved in the Assist the Officer Foundation, which provides additional support to officers injured on the job and their families.
Givens's death was the second 'on the job' in Dallas this year. Officer Rogelio Santander, a three-year veteran, was killed on the 25th of April 2018 while trying to arrest a 29-year-old on an outstanding warrant
Three months after Santander's killing, Dallas Police is once again mourning the death of one of their own killed in the line of duty.
Please fill in your e-mail so we can share with you our top stories!