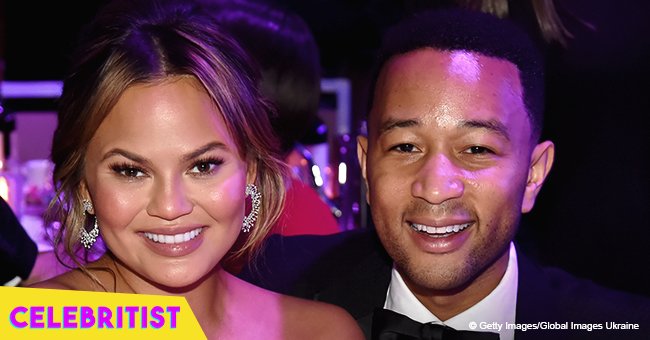 Chrissy Teigen shares new video of laughing son Miles who is a miniature version of his father

Model Chrissy Teigen, who has been married to John Legend since 2013, took to Instagram to share a video of the couple's youngest son, Miles.
The short recording portrayed Miles wearing a striped black and white onesie while he was laying down on a small bed surrounded by a couple of stuffed animals. A woman whose face was not clearly seen was in front of the baby playing with him.
Miles, who was captivated by the woman, was laughing and moving his arms and legs back and forth as a way to show his excitement. In the caption, Chrissy only wrote: 'this little dude!'
One of the most impressive aspects of the video was the uncanny resemblance that Miles and his father John share.
That fact was noticed by many fans and followers who took to the comment section to share their thoughts when Chrissy uploaded the recording. One of them was Instagram user @lilired1965, who pointed out that Miles looked like his father and their daughter, Luna, looked like her mother.
The video was shared only days after she showed how she was trying her best to save some of her spilled breast milk. In the recording that Chrissy uploaded to her Twitter account, she was using a syringe to suck as much milk as possible.
She could be heard saying 'we're trying!' In the caption of that video, she pointed out she was jealous of those mothers who have 'plentiful boobies,' implying that she is struggling at breastfeeding.
A second short recording portrayed the baby bottle next to a small amount of the spilled milk. In it, Chrissy explained her mistake and that milk was really important in her house.
In the caption, she wrote in capitals that every drop counted. People revealed that, responding to some of her followers' questions, Chrissy admitted that she usually adds formula to supplement her lack of milk.
So far, Chrissy and John, who have been married since September 2013, have welcomed two children to the world: Luna, born in April 2016, and Miles, born in May 2018.
Please fill in your e-mail so we can share with you our top stories!