Ivanka Trump looks glamorous in a silk outfit on CNBC's 'Squawk Box'
The US first daughter dressed to impress during her July 19 interview for CNBC's Squawk Box at the White House, on which she promoted one of the most recent executive orders signed by her father.
36-year-old senior adviser to the president Ivanka Trump sat down with news anchor Joe Kernen to discuss a new White House program that vows for continued training for tech workers, hours before President Trump signed the executive order.
Donald Trump's oldest daughter looked incredibly glamorous wearing a pale blue silk shirtdress. The belted frock was buttoned to the top collar and featured slit sleeves that give the impression that she is wearing a cape.
Ivanka appeared to be in high spirits about the program she helped launch and was accompanied by 18-year-old Robert Felder, a graduate from Syracuse's Institute of Technology at Central High School.
During the CNBC interview, Ivanka explained that Felder's success is an example of what the executive order plans to achieve after coming into force.  Read more on our Twitter account @amomama_usa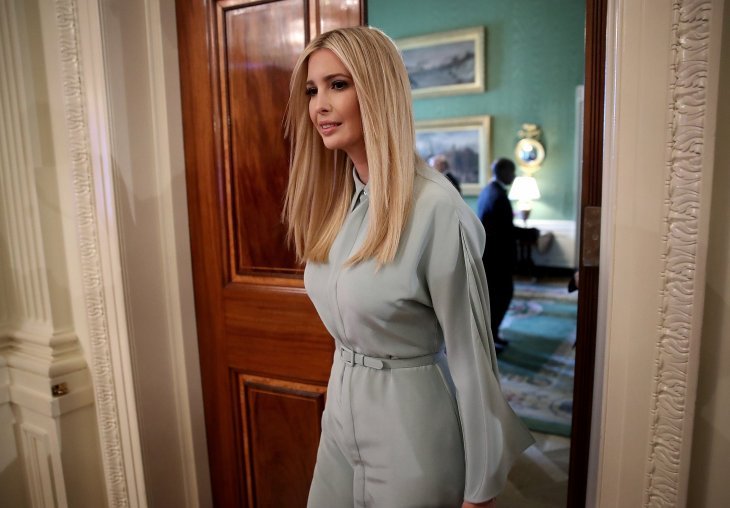 'Robert graduated this spring from P-Tech, from the high school, with 20 degrees [grades] towards his college education,' shared the former reality TV star when introducing the remarkable young man.
'As a country, by and large, all investment in education stops at the age of 25, and that doesn't work in such a fast-changing, increasingly digital economy,' she said.
'We also have to be thinking about the mid- to late-career worker, who needs to be re-trained and re-skilled,' she added.
After a brief stop at her Washington D.C. home following the interview, Ivanka returned to the White House to watch her father sign the pledge she had been promoting, as Daily Mail reported.
She introduced her father at the Pledge to America's Pledge event, before President Trump officially established the National Council for the American Worker.