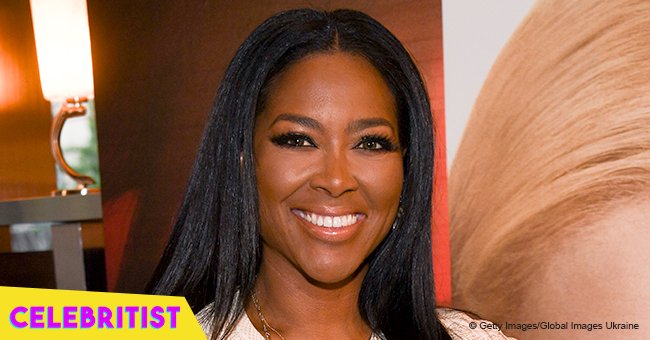 Kenya Moore gets dragged for dyeing her hair blonde while pregnant
Kenya Moore has just shared a photo where she's sporting blonde hair, and while she's totally rocking the new do, fans are disappointed.
Pregnant Kenya Moore was probably in need of a little change when she decided to dye her signature dark tresses blonde.
In a bedroom snap she posted recently, she flaunted her brand new golden locks along with a flawlessly made-up face while posing the question, "Do blondes have more fun?" in her caption.
The image which attracted over 15,000 likes earned conflicting reactions from fans. Some agreed the 'Real Housewives of Atlanta' star looked radiant with her new hair color but others saw the move as a violation of the pregnancy code.
"I don't think it's safe to use chemical products while you are pregnant. Be careful Kenya."
"Love you, but I'm not sure dying your hair while pregnant is safe. Look it up I may be wrong. That and stay out of the sauna also…..if you do the sauna thing."
"Don't they say not to dye your hair while pregnant? Be careful Kenya!! I like to cut my hair off and make it blonde during the summer, and I didn't do it while I was pregnant."
However, there were those who defended the mom-to-be saying the belief against dyeing hair while pregnant was simply a myth.
"Some patients get perms, dye, and everything other ole school myth and have the healthiest babies while others who follow all of the text book "guide to a healthy baby" and still have issues. Let this woman and her baby LIVE and be happy geesh……."
Kenya's "baby twirl", as she fondly calls her unborn child is due in a matter of months. As this will be her first child with husband Marc Daly, the excitement is doubled, with Kenya enjoying every moment of it.
Last month, she was amusingly shocked at her weight gain revealing on her Instagram Story that she weighed in at 183.8 pounds. But by the looks of her latest post as a blonde, the weight gain and maternity suits her just fine.
Please fill in your e-mail so we can share with you our top stories!