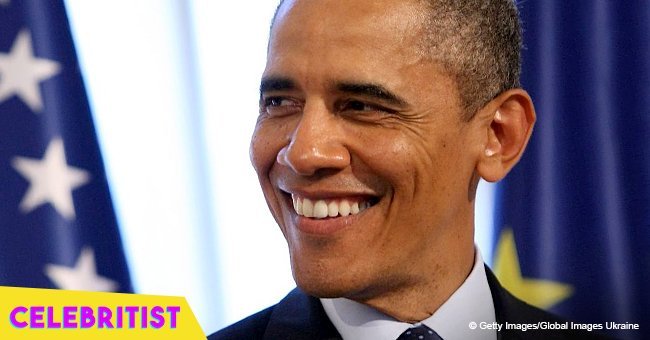 Barack Obama shows off dance moves with his step-grandmother, 96, in Kenya
The former president showed off his best dad moves to an African beat in his first visit to Kenya, his father's native country, after leaving the office. But he wasn't the only Obama showing off moves in front of a crowd.
Barack Obama recently visited Kenya in his first non-official trip to the country to attend the launching of the new sports, training and vocational center founded by his half-sister, Auma Obama, through her foundation Sauti Kuu.
According to Sauti Kuu's web page, the program aims "to build the self-awareness and self-esteem of young people while promoting motivation and perseverance." Personal training, education workshops and sports, as well as activities such as dance, music, and theatre, are some of the tools used to achieve their goal.
The 44th president joined Auma and their grandmother, Sarah Obama, on a series of events that included speeches, games and some cultural exhibitions that made the former president stand up from his chair to show his best dance moves.
On a pair of videos shared by NTV Kenya on Twitter, Obama is seen getting up from his chair to dance to the contagious rhythms as people surrounding him immediately joins by clapping and taking pictures of him. In another clip, the 56-years-old is seen encouraging his 96-years-old grandmother to take on the floor as well.
Sarah, with a bit of help from Barack and Auma, left her wheelchair behind as she outdanced her grandson with some traditional moves. The gorgeous lady looked stunning wearing a black dress with a red, green and yellow pattern all over it, as well as a matching bandana.
The day before, Obama made an appearance in Johannesburg, South Africa, where he gave a touching speech honoring Nelson Mandela, who would've turned 100 on July 17. Among other things, he said:
"I believe in Nelson Mandela's vision. I believe in a vision shared by Gandhi and King and Abraham Lincoln. I believe in a vision of equality, justice, freedom and multi-racial democracy, built on the premise that all people are created equal."
The Obamas had a great time together, and while Barack was visiting his ancestral home, his wife Michelle was in France dancing to a completely different rhythm.
The former first lady was spotted having the time of her life on Beyoncé's and Jay-Z's "On The Run II" tour in the company of Tina Lawson, Bey's mom
Michelle looked stunning and youthful wearing an all-white ensemble of high waisted white shorts, top, and jacket. She completed the look with beige sandals and silver hoop earrings. The mother of two was caught on video dancing to one of Jay-Z's songs stage side as she joined the crowd when the rapper asked them to push their hands up.
The concert was a double celebration as that day France won the FIFA World Cup. It was reported that The Carters delayed their show in order to screen the game on the big screens of the stadium where the concert was held.
If something has proven the Obamas, is that they know how to have fun in between their tight work schedule.
Please fill in your e-mail so we can share with you our top stories!