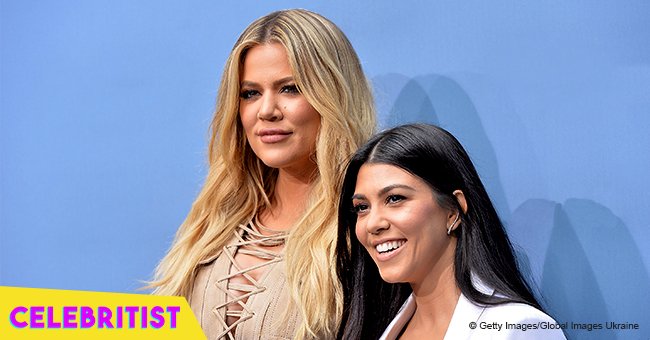 Khloé Kardashian apologizes amid backlash for calling sister Kourtney the 'R-word'

Khloe Kardashian unleashed the R-word during a recent Instagram Live feed prompting fans to slam her for it. Proving she's only human, she immediately tweeted an apology.
Khloe Kardashian is as real as anyone can get. She recently apologized for dropping the R-word during an Instagram Live feed with her sister Kourtney Kardashian after fans reprimanded her for her poor choice of word.
During a live feed she posted while working out with her sister, the reality star was venting out her frustration over her older sister's inability to sync their smartphones when she uttered,
"Yes, you can, you f–king r—-d."
And when Kourtney still couldn't get the device working the way they wanted it to, Khloe yelled,
"Are you f–king r——d?"
Fans didn't take long in condemning True's mom s for using the R-word in her outburst. One fan wrote,
"I was watching your livestream on Instagram until you said the "r" word. You should pay more attention to your word choices especially since you have a huge following&don't know who you could be offending. If True had a disability you would use a different word. @khloekardashian"
Another also expressed her dislike.
"@khloekardashian did a live insta today using a discriminatory word. R——d, what we call the R-word. I love the Kards but this shocked me & is repulsive."
Human as she is, Khloe immediately responded and apologized for her language. She tweeted,
"Ugh I hate that word! Why did I even say that? You are a million percent right and I actually greatly dislike when people use that word! I will do better! I am sorry! much love today. "
This is not the first time responded to fans as she would often clarify things and defend herself when things got out of hand. She addressed haters who criticized her for working it out with her baby's father Tristan Thompson after he blatantly cheated on her while she was pregnant. She tweeted,
"You have no knowledge of what goes on in our household or the enormous rebuilding this takes to even coexist. I'm proud of my strength."
She also shut down an internet troll who insulted her daughter on Instagram by saying she was "not cute at all" and tweeted,
"What self-respecting adult would even comment on a child's appearance? What type of disgusting human being are you? It's pathetic that you are this miserable in your life."
But Khloe is also humble enough to admit when she makes a mistake as her latest apologetic tweet proves and that's what sets her apart from many reality stars.
Please fill in your e-mail so we can share with you our top stories!