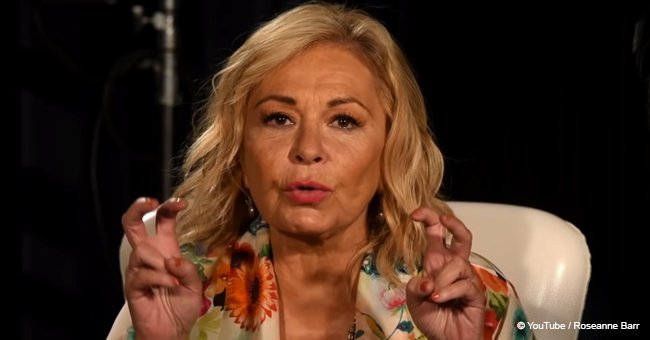 Roseanne Barr claims she was fired by ABC for being a Trump supporter
Roseanne Barr claimed ABC fired her because she voted for President Donald Trump.
On July 20, 2018, Barr, 65, posted a video to her YouTube channel pointing out that her hit show, Roseanne, was canceled not because she compared Valerie Jarret to an ape, but because she voted for Trump.
The actress said: "This was my statement from the very beginning and it will continue to be forever, because it is the truth: When ABC called and asked me to explain my 'egregious and unforgivable tweet,' I told them, 'I thought Valerie Jarrett was white.' And I also said, 'I am willing to go on 'The View,' 'Jimmy Kimmel' or whatever other show you want me to go on and explain that to my audience.'"
"Now instead what happened, about 40 minutes after that, my show was canceled before even one advertiser pulled out, and I was labeled a racist."
She added: "Why, you ask? Well, the answer is simple: Because I voted for Donald Trump, and that is not allowed in Hollywood."
According to Barr, she issued her official statement on her YouTube channel in order to speak "to [her] fellow and sister Americans without the filter of the biased media."
It all started when Barr tweeted: "Muslim brotherhood & planet of the apes had a baby."
Soon after she posted the now-deleted tweet, she apologized and seemed genuinely repented.
"I am truly sorry for making a bad joke about her politics and her looks, I should have known better. Forgive me — my joke was in bad taste," Barr tweeted.
But prior to the apology, ABC fired her from the hit show, in which she played the titular character. Roseanne then appeared to be canceled in a matter of hours.
After cancelling the show, ABC announced a 10-episode Conner family spinoff without her involvement.
Barr launched her career in stand-up comedy at clubs before she shot to fame for her role in Roseanne. She won both an Emmy and a Golden Globe Award for Best Actress for her performance on the show.
Please fill in your e-mail so we can share with you our top stories!