Here's what could happen if the presidential couple decides to divorce, according to experts
If Melania Trump decided to separate from Donald Trump, it would be the first time in history that a First Lady divorce a US president.
Married since 2005, the couple faces speculation about rumored affairs and rude treatment. Then, news of the president's affair with adult film star Stormy Daniels only added drama.
According to a New York Magazine report, if the Trumps decided to get divorced, here is everything that would happen, including the pricey demand she could require from the president.
Ronald Reagan was the first divorced person elected as president. A sitting president, however, has never pulled the plug on his marriage. Trump could call President Vladimir Putin, for pointers. Putin split from his ex-wife while serving Russia.
Melania's spokeswoman Stephanie Grisham has pushed back on rumors of trouble in the Trumps' marriage. Still, we got to wondering: How might a First Divorce play out? Read more on our Twitter account @amomama_usa.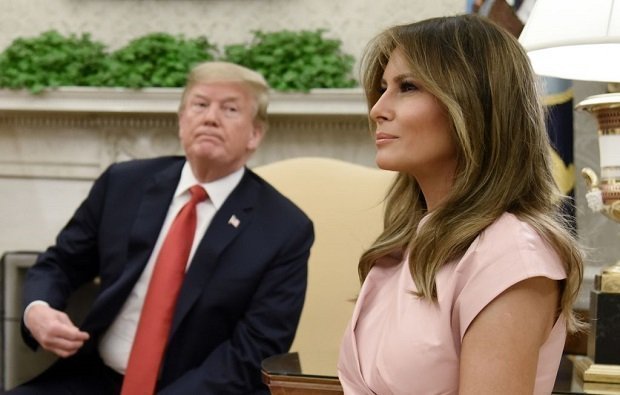 If the Trumps dissolve their marriage while in office, Trump will likely receive advice to handle the situation with grace.
Prominent divorce lawyer Sandy Ain told the Washingtonian, "I suspect if they got divorced, he would pay her a lot of money, and it would be done in an appropriately dignified way.
In Trump's previous marriages, he had prenups in place, but both of his ex-wives contested them.
His first ex-wife Ivana Trump (mother of Ivanka, Donald Jr., and Eric) received a hefty $14 million and several properties. Tiffany Trump's mom, Marla Maples, was awarded $2 million.
If they divorce, Melania would likely be granted one of Trump's many real estate properties. Ivana was able to get a Trump Plaza apartment, so it's possible Melania might also be granted a luxury apartment.
Much to the disappointment of journalists everywhere, a reasonable judge would seal any agreements in an attempt to protect the privacy of the first couple.
Along with sealing personal details, they might expect Melania to keep her mouth shut about the campaign and presidential secrets due to agreements she may have reached with Trump and his advisors.
But perhaps most important, although divorcing Trump would surely please the "Free Melania" crowd, the first lady hasn't really shown that she cares much what other people think of her or that she needs to be saved.