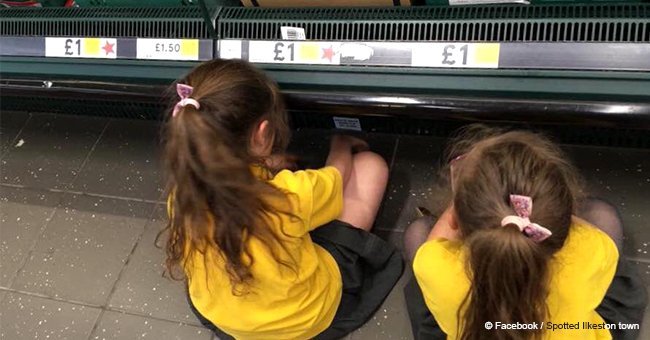 Mother forced daughters to sit on floor for bad behavior, sparked heated controversy
The mother decided to discipline her daughters in the supermarket when they were running around. Internet users expressed polarising views to the episode.
35-year-old Englishwoman and single mother-of-two, Louis Palai, took her daughters, Alisa and Ebony, to the groceries to get the monthly supplies.
The highly energetic girls were enjoying their time in the aisle of the store and ran around making a lot of noise. The carefree sisters were so engrossed in playing that a shopping cart almost hit 7-year-old Ebony.
Palai did not want her daughters to get hurt and chose to discipline them in the store itself. She shared a picture of her daughters sitting on the floor as a punishment for their raucous behavior on Facebook.
Read more about Louis Palai on our Twitter account @amomama_usa
For some, it can be an awkward situation to impart discipline to their children in a public place. Palai was not one of them. She chose to put her daughters in timeout right at the grocery store.
5 minutes later, Ebony and Alisa started to behave in a better manner. Palai said she put her children in timeout regardless of the location. She did not bother if people stared or said anything to her about her methods.
Social media users had polarizing opinions on Palai's tactic of disciplining her children. One user, Deborah Thrapp Mucklow, applauded the young mother's methods and shared that she did the same thing with her children.
Another user, Jo Ann Greer, expressed that Palai did it the right way. She preferred mothers putting their children in timeout in public instead of slapping or hitting them.
Some netizens did not like the embarrassment the girls had to go through in the public place. For instance, Emily Fekete believed that the grocery store was not the right place to put the toddlers in timeout.
Palai stood with her children throughout, and after the timeout was over, she explained to them why they were punished. She ended it with a kiss and a hug. The trio continued their shopping spree after the whole episode.
Please fill in your e-mail so we can share with you our top stories!