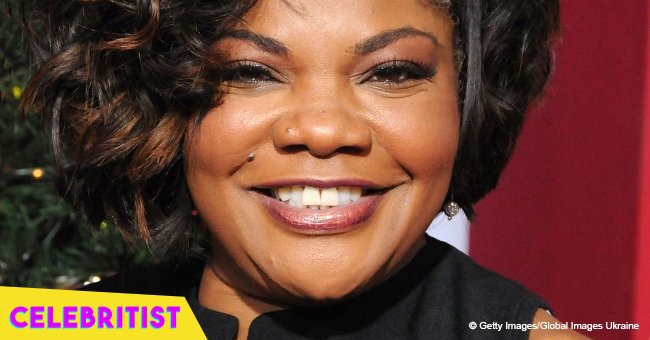 Mo'Nique, 50, steals the show, shaking her body in colorful dress after serious weight loss
The actress has always been an advocate for bigger women, encouraging them to love themselves regardless of how they may look. But now she has made a drastic change.
Actress and comedian Mo'Nique has always been known to be big, and has previously spoke out to say "bigger is better" in an attempt to boost the confidence of other women who are considered to be "too big" by society.
Now, however, it seems as though she has changed her attitude. Recently, the Precious actress showed off a massive amount of weight loss. Mo'Nique is a changed woman thanks to her incredible journey to weigh in below 200 lbs for the first time in 33 years.
And a recent video of her dancing it up on stage shows just how much she has lost.
In the video clip, Mo'Nique can be seen on the right, wearing a blue and orange patterned dress that fell just above her knee. Her long wavy hair was tied in a ponytail atop her head, and hanging down her back.
She was on a small stage with another woman, who was dressed in a light colored dress with long flowing tassels at the bottom, and with her hair piled on top of her head with a pink headband tied around it.
"My loves. This beautiful QUEEN dancing with me is 68yrs young. What an honor it was to play on stage with @queen_cookie_805. SHE WAS MAGICAL. To watch this QUEEN is nothing but MOTIVATION. Watch her and get some. WE LOVE YALL," she captioned the clip.
The two women showed off their dancing skills to excited applause from the watching audience.
She shared another short clip from the night made with boomerang, wearing the same beautiful dress. In the clip, she flicked her hair back and forth, facing away from the camera, and showing off her much slimmer figure.
"Hey my sweet sisters. @ciara Let's LEVEL UP. To be better wives, mothers, sisters, friends, and just all around better to ourselves and our families. LOVE US 2 LIFE," she captioned it.
The star achieved her current weight by embracing a healthy lifestyle and forcing herself to follow a daily exercise program. Even though she is now 50 years old, she looks youthful and glowing.
Mo'Nique tries to use her Instagram account as a way of inspiring other women to reach their dreams of losing weight. In the past few months, the star has been documenting her journey, even sharing some of her exercise videos.
In one of her posts, she wrote on the caption, "Don't be afraid of pushing yourself pass your limits. It pays off. Sisters, it is possible. Love, love, love y'all."
The actress revealed that the reason she changed her attitude towards her weight was down to her husband, Sidney Hicks.
He had asked her what she weighed, and when she told him he expressed concern that she was too heavy, and that he desperately wanted her around for a lifetime, which wouldn't happen if she didn't focus on her health.
"[He] said, 'Mama, that's too much weight. I want you for a lifetime.' In that moment, I went through embarrassment. I went through guilt. I went through shame, but I had never felt a love like that before. So, that night was when the decision was made: 'I gotta save my life,'" she said.
Please fill in your e-mail so we can share with you our top stories!