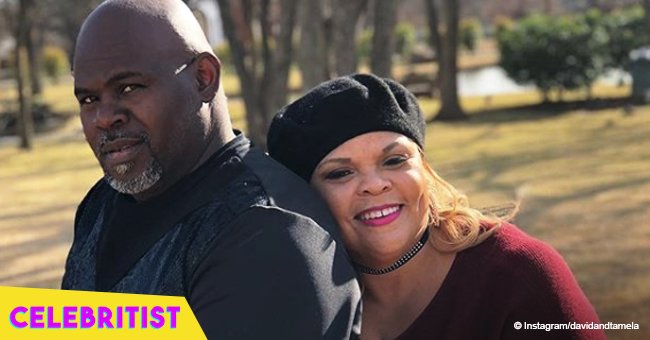 David and Tamela Mann's daughter shows off slimmer curves in black leggings & denim coat in pic
The 28-year-old daughter of the gospel singers and actors is the youngest of their daughters, and has grown into a beautiful young woman over the years, and recently started to lose weight.
Tia Mann is the daughter of David and Tamela Mann, and as such is no stranger to the cameras and the spotlight. Her parents have shared plenty of photos of her, and she recently joined their reality television show, The Manns.
Tia has gone on a weight loss journey in the past year and a bit, and a recent photo she shared to her Instagram account highlights not only this, but also the beautiful curves she boasts on her body.
In the beautiful image, she looks relaxed and content as she advertised a t-shirt.
"S/o to @showcase__beauty for sending me this dope shirt. WTF! (Where the Faith) Go and Support!!! Thx again guys @showcase__beauty," she captioned the image.
In the shot she wore a pair of black leather leggings, a white t-shirt with "WTF where's the faith" written on it, and a loose denim button-up jacket. She also had on a pair of yellow-tinted sunglasses.
Tia underwent weight loss surgery in 2017, and although she didn't feel she was particularly unhealthy before the procedure, she said at the time that she was looking forward to being "healthier, slimmer, and won't have to worry about the knees."
Another recent image saw Tia wearing a beautiful black dress with a low-cut v-neck and a high slit up her thigh as she prepared to attend a wedding.
The photo, taken outdoors, saw Tia in a beautiful black dress. With a low-cut neckline and a high slit up her thigh, it hugged her waistline in the center with a diamante embellishment, showing off her voluptuous curves.
The slit in the dress also showed her thigh and foot tattoo. Tia left her wavy hair loose, and wore a delicate necklace. She had on a dark red lipstick, and a smoky eye makeup look.
Tia celebrated her 28th birthday in May, and enjoyed a special dinner with her parents for the special occasion.
David and Tamela took to their joint Instagram account to share a photo, and a message for their youngest daughter.
"Happy 28th birthday to our silly baby girl @iamtiamann," the gospel singers and actors captioned the post.
In the image, David and Tamela appear alongside Tia on an elegant night out. The three of them all decided to stick with the monchrome theme, with both Tia and Tamela wearing black dresses while David wore a black suit with a white shirt.
The photo also highlighted the resemblance between Tia and her mother, with the two sharing the same smile, nose, and eyes. Certainly, it seems as though the biggest difference between the two women is the color of their hair!
Please fill in your e-mail so we can share with you our top stories!