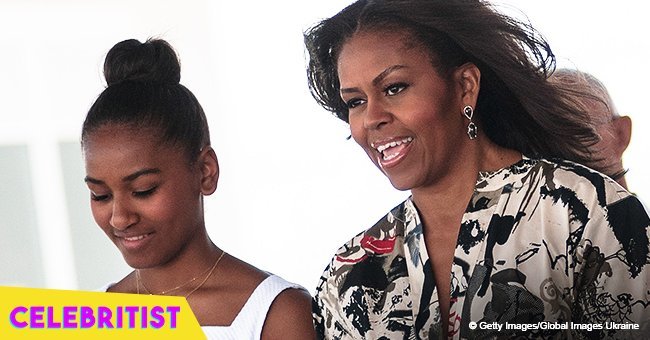 Michelle & Sasha Obama steal the spotlight in white outfits at Beyoncé & Jay-Z's concert
Now that she and her husband are out of the White House, Michelle Obama is proving she knows how to have fun in the company of her youngest daughter. The pair attended the "On The Run II" tour in Paris and the former first lady's outfit has created some controversy.
Michelle Obama was the vivid picture of a youthful spirit when she joined the expecting French audience at Beyoncé's and Jay-Z's "On The Run II" tour on Paris. The concert became a double celebration for the audience after France won the FIFA World Cup hours before the show.
The former first lady joined Tina Lawson, Beyoncé's mother, on the VIP area of the stadium, as they danced next to the stage while Jay-Z and Beyoncé took the stage to do what they do best. A video recorded by a fan and shared by Tina on Instagram shows the ladies having the time of their lives to a Jay-Z song.
Michelle, who has been working non-stop with her foundation even after Barack Obama stepped out of the office, looked stunning in a summer outfit wearing all-white. She wore a pair of drawstring high-waisted shorts and a tank top under a voluminous jacket. To complete the look, Obama went for beige platform sandals and silver hoop earrings.
The 54-years-old was seen raising her hands to the air as per Jay-Z's request with the rest audience as she showed her best dance moves.
Sasha Obama, her youngest daughter, was also among the audience. Like her mom, Sasha went for a white sleeveless top that she combined with high waisted jeans, black sandals and her gorgeous hair straightened to flow down her shoulders and back.
While most of the fans have praised Michelle for being able to let her hair down, and show that, despite being a former first lady she's also allowed to have some fun like the rest of us mortals, other conservationists believe she should take better care of her image.
People have been criticizing Mrs. Obama for wearing shorts, calling her "classless" and comparing her new fashion style to that of the current First lady, Melania Trump.
In Michelle's defense, she was always the picture of elegance and class during her time as FLOTUS, and the fact that she no longer represents the U.S, allows her to bring out an outfit that any other citizen would wear at a concert while hanging out with friends.
Earlier this year, Michelle visited "The Ellen DeGeneres Show" for her first TV interview after leaving the White House, and she revealed how the family has been adapting to a "normal" life after eight years being under constant scrutiny from the public.
Obama talked about their new Washington home and the space distribution that took place, explaining that her high schooler daughter won the biggest room to Barack.
"He doesn't have enough closet space — sorry. He's got the smallest room for his office," she revealed. "And Sasha actually killed in this house — she has this two-room suite, it's all decked out. She's got a living room area and bedroom. She designed it. So he's really hating on her."
Obama touched the audience when she revealed that even though it took some time to get used to their new home away from the White House, they discovered home is where they make it together.
"We were in the White House for eight years but it wasn't the house — it was us in it. Our values and our love for each other. We just moved that to another house," she said.
Please fill in your e-mail so we can share with you our top stories!