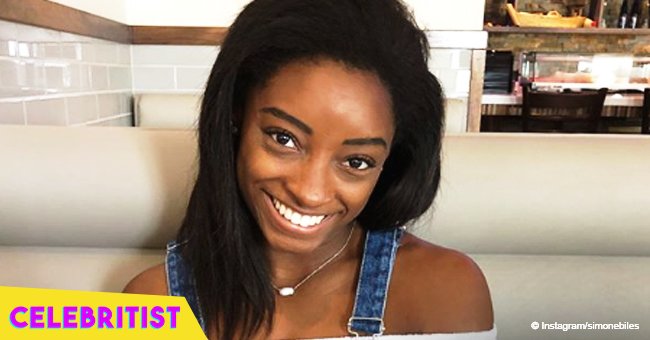 Simone Biles flaunts her toned abs and legs in sports bra and tiny shorts
The Olympic gold medalist gymnast is the most decorated gymnast from the 2016 installment of the competition, but she has plenty more, erm, goldware from her athletic career even before she made her Olympic debut.
Simone Biles is the 2016 Olympic individual all-around, vault and floor gold medalist, and balance beam bronze medalist. By the time the Rio de Janiero installment was over, Biles had 16 international gold medals from major competitions.
But since the competition, almost 2 years ago now, Biles has been enjoying some well-deserved vacation time, traveling away to multiple destinations on holiday, attending awards shows, and writing and promoting her new book.
Biles is now preparing to dive back into competition head first, and will be returning to the gymnast's floor at the GK U.S. Classic in Columbus, Ohio on July 28.
She has been getting ready for her return, and recently shared a selfie to her Instagram account that proves she sure hasn't let herself go while she enjoyed her downtime.
In the shot, which was taken on her cell phone in the mirror, she is wearing nothing but a black Nike sports bra and a pair of light green Nike boy shorts. Her hair has been piled up on top of her head in a bun, and she was sticking her tongue out.
She was standing on her toes, and had a pair of white ankle socks on her feet.
"meet week monday lessgooo," she captioned the shot, implying she's ready for the week leading up to the competition.
What the image highlighted was Biles' 6-pack abs, and her strong thighs. Looking at her physique, it becomes obvious why she is such a successful gymnast.
During her vacation time, Biles shared a number of photos of herself and her boyfriend, Stacey Ervin Jr. One photo showed him picking her up on the beach, while she pointed her toes as she's been taught to do her whole life.
The couple looked relaxed as the soaked in the sunshine and peaceful setting.
Biles gave the sweet shot a cute caption to match: "he always manages to sweep me off my feet #nationalbikiniday."
Ervin also recently shared a video clip of the pair of them, but in this one his girlfriend seemed less than impressed with his antics.
In the clip, Biles could be seen standing next to a platform that is the same height as her: a whopping 4 foot 9 inches high. Ervin decided to show off his own athleticism, by box jumping onto the platform.
"Got ups? I box jumped Simone's height. She was only a little impressed." he wrote in the caption.
While he made the jump with relative ease, there weren't exactly loud cheers of support coming from his nonplussed girlfriend standing next to the platform.
Please fill in your e-mail so we can share with you our top stories!