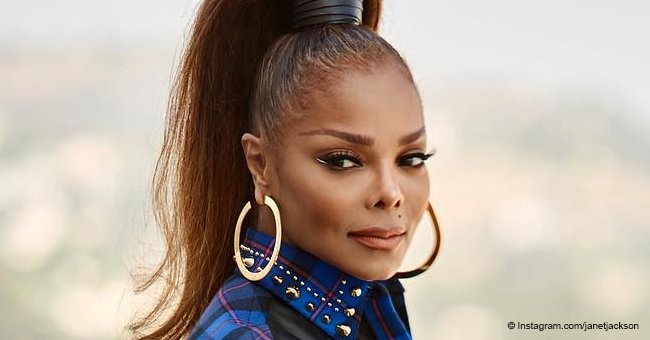 Janet Jackson gets dragged after stepping out in ripped jeans and yellow boots

Janet Jackson gets all quirky as she clashes colors and prints in a layered ensemble while shooting her latest music video. Fans aren't too pleased with her look.
Janet Jackson stood out in New York on Monday as she stepped out in a kooky ensemble to shoot a music video.
Taking a break from her ongoing 'State of The World Tour', the 52-year-old songstress caused heads to turn as she channeled an eclectic look. She fashioned a pink checkered mullet hem skirt worn over a pair of ripped jeans with a wide yellow belt strapped around her waist. She donned a white graphic T-shirt and a printed neon green and yellow headscarf to accentuate her top-knot with a long braid cascading down her shoulders. Capping her look, she wore yellow boots and a purple choker as she marched down the streets of Brooklyn along with her denim-clad backup dancers.
Cameras followed the legendary hit maker and her crew as they danced and paraded the street in silence. At one point, Janet got into a discussion with one of the behind-the-scenes staff about the sequence of filming. She also got help with her costumes in-between takes
While her seemingly confused ensemble was clearly all for the video, some fans couldn't help but express their distaste.
"she looks like a freakin clown!!!"
"I'm convinced her child chose her outfit"
"Double tapped when I saw the first pic. Then I swiped left and immediately took my like back"
"naw.. I don't get it sorry lol"
"Who the hell told her this was ok?"
Days earlier, the singer was also wearing another clashing look filming on the same location. She rocked a red-and-black checkered sweater in contrast to black-and-white checkered trousers and a big afro.
As strange as her outfits seem, some fans agree that it is classic Janet and only she can pull off something like this. Haters will just have to wait for her video to be launched to see why she even ventured into this kind of fashion.
Please fill in your e-mail so we can share with you our top stories!